Women should achieve executive parity in about 120 years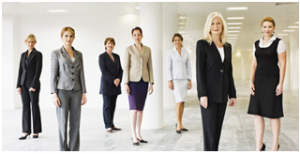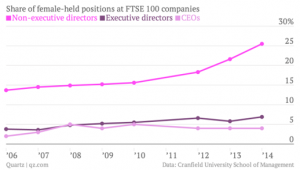 In 2010, Christine Lagarde, International Monetary Fund's Managing Director, famously said, " if Lehman Brothers had been "Lehman Sisters," today's economic crisis clearly would look quite different". Ms.Lagarde was answering the question about whether there would have been a financial crisis had more women been in senior positions.
Neuroscientists have uncovered evidence suggesting that, when the pressure is on, women bring unique strengths to decision making. Credit Suisse examined almost 2,400 global corporations from 2005 to 2011 — including the years directly preceding and following the financial crisis — and found that large-cap companies with at least one woman on their boards outperformed comparable companies with all-male boards by 26 percent.
Up to end of 2014. In the top 150 banks and financial services groups there are just six chief executives who are women and only 13% of the members of their executive committees are female.
A recent study published by Oliver Wyman, consultancy found that the proportion of women on executive committees of big financial institutions rose by only 3% between 2003 and 2013.
The senior management committee at Goldman Sachs includes 5 women out of 34 members. There are two women out of 16 on Morgan Stanley's operating committee. Barclays has 3 women out of 11 while Deutsche Bank has just 2 out of its 21 member executive committee.
In 2012, the European Union outlined plans for companies to target 40pc female board membership by 2020.Much of Europe now has mandatory quotas. At the end of 2014, Germany passed a law forcing German companies to make 30pc of their supervisory boards female. Norway, Italy and the Netherlands already have similar rules in place.
In the UK the campaign to get more women onto boards has been running for few years now. Old Mutual topped the list for the most improved firm in 2014, with a 38.5pc increase in women on its board, although admittedly it started out at zero. There has been a steady progress.
Companies are spending time, money, and have good intentions. Efforts are being made to build a more robust pipeline of upwardly mobile women. Governments are stepping up efforts to bridge the gender disparity in boardrooms, will we have to wait another century for women to achieve executive Parity.
Disclaimer: All content provided on this page are for informational purposes only. Gladstone Morgan Limited makes no representations as to the accuracy or completeness of any information on this page or found by following any link on this page. Gladstone Morgan Limited will not be liable for any errors or omissions in this information nor for the availability of this information. Gladstone Morgan Limited will not be liable for any losses, injuries, or damages from the display or use of this information. This policy is subject to change at any time.
It should be noted the services available from Gladstone Morgan Limited will vary from country to country. Nothing in the comments above should be taken as offering investment advice or making an offer of any kind with regard to financial products or services. It is therefore important to reinforce that all comments above are designed to be general in nature and should not be relied upon for considering investment decisions without talking to licensed advisers in the country you reside or where your assets may located.Gladstone Morgan Ltd is not SFC authorized. Gladstone Morgan Ltd in Hong Kong is licensed with the Hong Kong Confederation of Insurance Brokers.