Will Chinese Interest Rates reach ZIRP?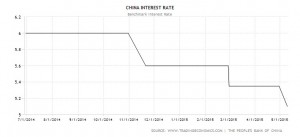 China's recent decision to cut interest rates for the fourth time in eight months, allied with their powerful incentive to strike a balance between growth and adjustment, justifies a discussion of whether Zero Interest Rate Policies (ZIRP) may loom somewhere in Beijing's future.
Recent rough weeks for China's stock market and heavy losses in the Shanghai Composite Index ultimately pushed the central bank to cut interest rates. This unexpected move was aimed at providing more confidence to investors and boost the slowing economy.
There are many other policy options that China could implement to counteract the share market's downturn and ones which Li Keqiang- Premier of the People's Republic of China recently showed preferential interest in implementing.
He said: "China has a bunch of policy tools at its disposal. We will not opt for strong stimulus," Right now, the global economy is in deep adjustment, and China's development has entered the state of new normal. China will remain committed to targeted macro-regulation. It will make anticipatory adjustment and fine-tuning as proper, and be flexible in applying the host of policy tools".
So for now all that we can conclude is that ZIRP can not be ruled out for the future. Only however might they become likely if a number of conditions emerge over the next two to three years.
For example:
First, GDP growth slows down further to reach approximately the 4% level.
Second, inflation remains at a low or negative rate.
Third, the government maintains its current debt management policy, which prefers liquidity support and rollovers to defaults and debt restructuring.
Time will tell…..
At Gladstone Morgan we cover all aspects of your Financial Planning and offer independent and impartial advice. Contact Dino Zavagno or a member of his team about reviewing your existing Financial Planning.
Disclaimer: All content provided on this page are for informational purposes only. Gladstone Morgan Limited makes no representations as to the accuracy or completeness of any information on this page or found by following any link on this page. Gladstone Morgan Limited will not be liable for any errors or omissions in this information nor for the availability of this information. Gladstone Morgan Limited will not be liable for any losses, injuries, or damages from the display or use of this information. This policy is subject to change at any time.
It should be noted the services available from Gladstone Morgan Limited will vary from country to country. Nothing in the comments above should be taken as offering investment advice or making an offer of any kind with regard to financial products or services. It is therefore important to reinforce that all comments above are designed to be general in nature and should not be relied upon for considering investment decisions without talking to licensed advisers in the country you reside or where your assets may located. Gladstone Morgan Ltd is not SFC authorized. Gladstone Morgan Ltd in Hong Kong is licensed with the Hong Kong Confederation of Insurance Brokers.