Why do I need a financial check-up?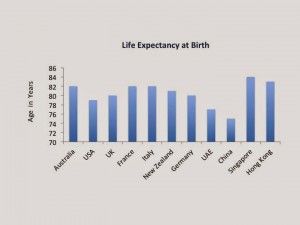 Barbara O'Neill and Karen Ensle, authors of the very popular book "Small Steps to Health and Wealth", stress that both health and wealth are equally important resources for living a happy and successful life. In their book, they rightly mention that people in poor health often die young and spend thousands of dollars on health-care costs. On the other hand, those who maintain healthy lifestyles are most likely to exceed average life expectancy and need a large nest egg to ensure that they don't outlive their savings.
Data shows that most people across the world are living longer. According to the latest estimate available from the CIA world fact book, people born in 100 out the 220 countries are now expected to live for an average of 80 years.
Source: CIA world fact book – www.cia.gov
While longevity is good news, it also means higher financial burden to maintain a desired quality of life. Life without adequate finances can be as miserable as life with poor health. It is very common for people to undergo annual medical check-ups to assess their overall well-being. Based on the advice from their doctors, one would constantly adjust his or her lifestyle to maintain good health, as well as take precautions by insuring themselves from any unforeseen diseases, illness and accidents. But, how often does one take time to assess their financial well-being?
Though financial health for each individual is different depending on their values and attitude towards life and money, in today's world, adequate financial planning means one has sufficiently planned for at least the following
Retirement planning – to transition from world of work to world of leisure
Critical Illness and Life Assurance – to secure the future of loved ones
Education Fee planning – investing towards a better future for the next generation
At Gladstone Morgan we can help you asses your financial health and provide advice on securing your financial future. Our website, //www.gladstonemorgan.com/, has convenient calculators to determine how much you need to save for the above necessities. Do contact us for a personalized financial health check-up.
Disclaimer: All content provided on this page are for informational purposes only. Gladstone Morgan Limited makes no representations as to the accuracy or completeness of any information on this page or found by following any link on this page. Gladstone Morgan Limited will not be liable for any errors or omissions in this information nor for the availability of this information. Gladstone Morgan Limited will not be liable for any losses, injuries, or damages from the display or use of this information. This policy is subject to change at any time.
It should be noted the services available from Gladstone Morgan Limited will vary from country to country. Nothing in the comments above should be taken as offering investment advice or making an offer of any kind with regard to financial products or services. It is therefore important to reinforce that all comments above are designed to be general in nature and should not be relied upon for considering investment decisions without talking to licensed advisers in the country you reside or where your assets may located.Gladstone Morgan Ltd is not SFC authorized. Gladstone Morgan Ltd in Hong Kong is licensed with the Hong Kong Confederation of Insurance Brokers.