Tread with Caution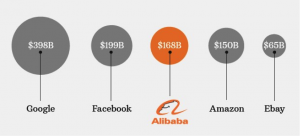 Alibaba, the biggest IPO to ever hit Wall Street, made a huge splash when it started trading last Friday. Valued at more than $200 billion, the scale of the Chinese e-commerce company is hard to comprehend. On a single day last year, one-third of all adults in China used Alibaba's sites, spending more than $5 billion on more than 100 million shipments. Alibaba owns and operates successful sites like Taobao and Tmall in China. In 2013, roughly $248 billion of merchandise exchanged hands on Alibaba's platforms. That number trumps the combined merchandize volumes of Amazon, Ebay and the popular Japanese site Rakuten.
The IPO surpassed the previous global record set by Agricultural Bank of China Ltd in 2010 when the bank raised $22.1 billion. It has made Jack Ma, the 50-year-old founder, China's richest; he owns $21.9bn in assets.
Alibaba has joined the elite group of technology companies that trade on the stock market and are sought after by investors.
source: factset
But it should also be noted that Alibaba quietly moved out of the Hong Kong stock exchange in 2012 as a private company, less than five years after its frenzied, high-profile initial public offering in Hong Kong. On its first day of trading in November 6, 2007, Alibaba.com's shares opened at HK$30, more than double the HK$13.50 issue price. But by the end of 2012, the share price had dropped below the offer price owing to the company's dropping revenue amidst global uncertainties.
Stocks can be an attractive asset class for Investors with certain risk profile, but it is not always the case. To assess your individual risk profile and know more on how to position your portfolio to gain from positive news and market moves through investment linked assurance scheme, contact us at Gladstone Morgan.
Disclaimer: All content provided on this page are for informational purposes only. Gladstone Morgan Limited makes no representations as to the accuracy or completeness of any information on this page or found by following any link on this page. Gladstone Morgan Limited will not be liable for any errors or omissions in this information nor for the availability of this information. Gladstone Morgan Limited will not be liable for any losses, injuries, or damages from the display or use of this information. This policy is subject to change at any time.
It should be noted the services available from Gladstone Morgan Limited would vary from country to country. Nothing in the comments above should be taken as offering investment advice or making an offer of any kind with regard to financial products or services. It is therefore important to reinforce that all comments above are designed to be general in nature and should not be relied upon for considering investment decisions without talking to licensed advisers in the country you reside or where your assets may located.