Trans-Pacific Partnership – designed to defeat China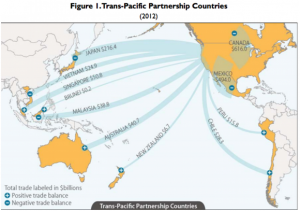 Liberalization has generally served the world economy well. Trade has delivered geopolitical benefits in many, though not all, cases. After World War II, Europe traded together and avoided another war. Another example is Mexico, since joining NAFTA (the North American Free Trade Agreement) in 1994, its exports to the United States have expanded more than sevenfold.
All this provides context for the buzz surrounding the emergence of Trans-Pacific Partnership (TPP). The Trans-Pacific Partnership is a new international trade pact being pushed by the U.S. government. The TPP is being secretly negotiated between the United States, Australia, Brunei Darussalam, Canada, Chile, Malaysia, Mexico, New Zealand, Peru, Singapore, Vietnam, and most recently, Japan — which together cover approximately 40% of the global economy. It could boost world output by $220 billion a year by 2025. It is poised to become the largest Free Trade Agreement in the world. The Trans-Pacific Partnership is far larger than NAFTA – covering 40 percent of America's global trade.
The finer points of TPP negotiations remain classified. However, a few details of the trade deal were leaked most recently by a Wikileaks release. According to these leaks, the TPP negotiations cover many issues including tariffs, limits on subsidies to state-owned companies, patent protection, labour wages protection, curb on currency manipulation and others. The Trans Pacific Partnership, although billed as a trade agreement, includes provisions on intellectual property and copyright that are usually outside the boundaries of trade.
Nonetheless, opposition to the deal is strong. Many Americans fret that imports from low-cost countries such as Vietnam will hurt American workers in manufacturing sector. This is backed by the fact that a quarter of the employment decline in American manufacturing from 1990-2007 was caused by the competition from Chinese imports. For every 10 percent increase in Chinese imports, U.S. wages across the affected jobs fell by 6.6 percent.
For the United States, the Trans-Pacific Partnership's overriding purpose is not to contain China but to create a counterweight to its rise. The TPP will also help America retain its sway in Asia. It would be the biggest trade deal to be signed in American history and could change the fortunes of the participating nations. Stay tuned to Gladstone Morgan Blog as we bring you insights on more such topics.
Disclaimer: All content provided on this page are for informational purposes only. Gladstone Morgan Limited makes no representations as to the accuracy or completeness of any information on this page or found by following any link on this page. Gladstone Morgan Limited will not be liable for any errors or omissions in this information nor for the availability of this information. Gladstone Morgan Limited will not be liable for any losses, injuries, or damages from the display or use of this information. This policy is subject to change at any time.
It should be noted the services available from Gladstone Morgan Limited will vary from country to country. Nothing in the comments above should be taken as offering investment advice or making an offer of any kind with regard to financial products or services. It is therefore important to reinforce that all comments above are designed to be general in nature and should not be relied upon for considering investment decisions without talking to licensed advisers in the country you reside or where your assets may located. Gladstone Morgan Ltd is not SFC authorized. Gladstone Morgan Ltd in Hong Kong is licensed with the Hong Kong Confederation of Insurance Brokers.