Till death do us part?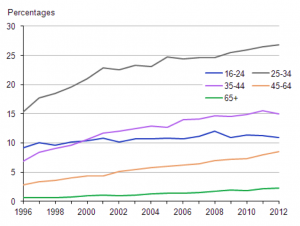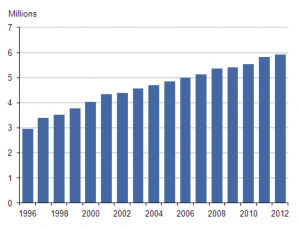 The world population is rapidly ageing. Between 2000 and 2050, the proportion of the world's population over 60 years will double from about 11% to 22%. The absolute number of people aged 60 years and over is expected to increase from 605 million to 2 billion over the same period.
According to Age UK, 10.8 million people in the UK were over 65 in 2012,a year when 800,000 celebrated their 65th birthday. It is estimated that there will be 20 million over the age of 65 by 2031. Cohabitation is rising at a fast pace in this age group as the following graphs suggest.
According to the latest Office of National Statistics (ONS) figures, the over-65 age group has been witnessing the largest percentage increase in the number of marriages in the UK. Marriage among men and women aged 65 to 69, rose by 25% and 21% respectively. One in 10 had been single, two-thirds divorced, and the rest widowed before tying the knot.
One of the key drivers for this emerging trend is that marriage sorts out pensions and avoids a 40% inheritance tax for a surviving affluent partner who has cohabited for several decades. Money-saving tax breaks, better pensions and capital gains tax exemptions are also among the financial planning advantages enjoyed by married couples.
Part and parcel of good financial advice is to lay down a plan for all life stages. Consult one of Dino Zavagno's team of qualified and experienced professional financial advisors at Gladstone Morgan for more information on creating a plan that's best for your situation.
Disclaimer: All content provided on this page are for informational purposes only. Gladstone Morgan Limited makes no representations as to the accuracy or completeness of any information on this page or found by following any link on this page. Gladstone Morgan Limited will not be liable for any errors or omissions in this information nor for the availability of this information. Gladstone Morgan Limited will not be liable for any losses, injuries, or damages from the display or use of this information. This policy is subject to change at any time.
It should be noted the services available from Gladstone Morgan Limited would vary from country to country. Nothing in the comments above should be taken as offering investment advice or making an offer of any kind with regard to financial products or services. It is therefore important to reinforce that all comments above are designed to be general in nature and should not be relied upon for considering investment decisions without talking to licensed advisers in the country you reside or where your assets may located.