The wait is over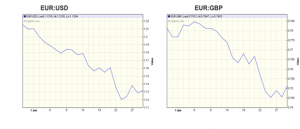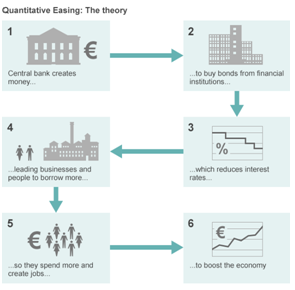 After months of debate, and having exhausted all the alternatives, the European Central Bank (ECB) announced on 22 January that it was finally introducing a big programme of quantitative easing (QE).The European Central Bank will inject at least €1.1 trillion (£834bn) into the ailing Eurozone economy. The ECB will buy €60bn bonds each month from banks until the end of September 2016, or even longer.The landmark move, to stave off a devastating bout of deflation and boost Eurozone growth sent the Euro tumbling. The Euro dropped to an 11- year low against the US dollar at $1.14, and a 7-year low against the pound at £0.76.
The markets had long been expecting the ECB to introduce QE. Eurozone recovery since the double-dip recession in the acute phase of the euro crisis has been weak and faltering. Eurozone inflation fell to 0.4%, far short of the central bank's target of close to 2%. After much hesitation and amid intense controversy, ECB president Mario Draghi signaled the start of QE.
The policy has been tried before in the UK, United States and Japan. In the UK and U.S., the policy has been deemed successful; in Japan, however, opinion is fiercely divided.
The biggest hurdle to overcomefor Draghi and team is the disparate economic health of the 19 member EU states, which makes a one-size-fits-all policy approach potentially less effective.From a trickle-down perspective, the effect of QE on average Europeans could be less than that experienced in the U.S. because long-term interest rates, which QE is supposed to lower, are already low in Europe. Structural economic issues plaguethe EU and if the stimulus doesn't work, it could mean the end of a single currency.
These new measures unveiled by ECB could help revive the economic situation in the Eurozone, but it has created an uncharted investment environment. The transition back to normal will notbe a smooth ride. Talk to one of Dino Zavagno's team at Gladstone Morgan to discuss a diverse set of investment strategies key to your financial goals at info@gladstonemorgan.com
Disclaimer: All content provided on this page are for informational purposes only. Gladstone Morgan Limited makes no representations as to the accuracy or completeness of any information on this page or found by following any link on this page. Gladstone Morgan Limited will not be liable for any errors or omissions in this information nor for the availability of this information. Gladstone Morgan Limited will not be liable for any losses, injuries, or damages from the display or use of this information. This policy is subject to change at any time.
It should be noted the services available from Gladstone Morgan Limited will vary from country to country. Nothing in the comments above should be taken as offering investment advice or making an offer of any kind with regard to financial products or services. It is therefore important to reinforce that all comments above are designed to be general in nature and should not be relied upon for considering investment decisions without talking to licensed advisers in the country you reside or where your assets may located.Gladstone Morgan Ltd is not SFC authorized. Gladstone Morgan Ltd in Hong Kong is licensed with the Hong Kong Confederation of Insurance Brokers.