The Politics of Oil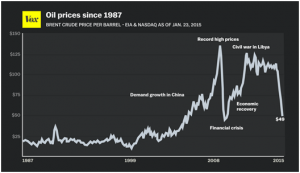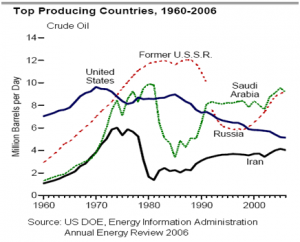 The plummeting price of oil is still the biggest news headline across the world. Between late June and the beginning of Feb 2015, the price of crude oil has fallen by 38 per cent. This is a big decline. But the world has experienced similar scale oil crises in the 70s and 80s.
Since the end of World War II, the real price of oil had steadily declined; a barrel of crude cost less in 1970 than at any time since the Great Depression. In 1973, Arab oil producers imposed an embargo to boycott America and punish The West in response to support for Israel in the Yom Kippur war against Egypt. This led the price of crude to rise from $3 per barrel to $12 by 1974.
By putting an end to decades of cheap energy, the 1974oil crisis exacerbated the economic difficulties facing many industrialized nations, forced developing countries to finance their energy imports through foreign borrowing, and generated large surpluses for oil-exporters.
In 1986, the world witnessed another Oil crisis. Itwas a result of serious surplus of crude oil caused by falling demand. The world price of oil, which had peaked in 1980 at over US$35 per barrel, fell in 1986 from $27 to below $10 leading to the collapse of Soviet Union.
The most recent oil plunge that started towards the end of 2014 is one of the biggest factors reshaping the global economy today, with ramifications for every country in the world. Low prices are excellent news for oil consumers in places like India, Japan or the US, where gasoline is the cheapest it's been in years. But it's a different story for nations reliant on oil sales such as Russia, Venezuela and OPEC members.
The financial crisis of 2008, geo-political conflicts and the most recent oil crises are all causing long-term changes in the way individuals handle personal finance. At a personal level, saving money on a regular basis is the most effective way of building up capital. We at Gladstone Morgan recommend saving plans customized to each individual. Talk to Dino Zavagno or a member of his team for more information on this topic. info@gladstonemorgan.com
Disclaimer: All content provided on this page are for informational purposes only. Gladstone Morgan Limited makes no representations as to the accuracy or completeness of any information on this page or found by following any link on this page. Gladstone Morgan Limited will not be liable for any errors or omissions in this information nor for the availability of this information. Gladstone Morgan Limited will not be liable for any losses, injuries, or damages from the display or use of this information. This policy is subject to change at any time.
It should be noted the services available from Gladstone Morgan Limited will vary from country to country. Nothing in the comments above should be taken as offering investment advice or making an offer of any kind with regard to financial products or services. It is therefore important to reinforce that all comments above are designed to be general in nature and should not be relied upon for considering investment decisions without talking to licensed advisers in the country you reside or where your assets may located.Gladstone Morgan Ltd is not SFC authorized. Gladstone Morgan Ltd in Hong Kong is licensed with the Hong Kong Confederation of Insurance Brokers.