The Li Shuffle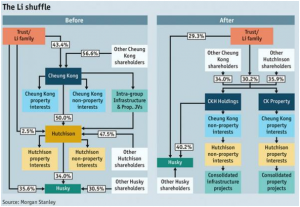 Sir Ka-shing Li, GBM, KBE, JP is a Hong Kong business magnate, investor, and philanthropist. According to the Bloomberg Billionaires Index 2014, he was the richest person in Asia, with a net worth of $31.9 billion.
Hong Kong's richest person for 17 years, Li Ka-shing kicked off the New Year by announcing a massive restructuring of his far-reaching empire. Investors in his companies welcomed the massive restructuring plan as the stocks of his flagship Hong Kong-listed companies Cheung Kong Holdings and Hutchison Whampoa shot up 15% and 13% respectively.This led the billionaire's fortune to rise from $2.3 billion to $34.1 billion, a jump that sent the Hong Kong resident to No. 14 among the world's richest people.
Li Ka-Shing began investing in Mainland China back in the early 90s, way back before it became the trendy thing to do. Now, Li wants out of China. All of it.Since last year, he's dumped billions of dollars worth of his Chinese holdings. He has ramped up his spending spree in Europe with a £1 billion (US$1.51 billion) deal to purchase Eversholt Rail Group of the U.K.
China's economic growth slowed to its weakest in 24 years, expanding 7.4% last year from 7.7% in 2013. A hard landing would be devastating for the world economy because China is the world's "growth engine", and if it falters, growth around the world will also slow.Slow economic growth has implications for retirement planning. Retirement incomes depend largely on how much people earn in their working years. To know more on this topic, talk to Dino Zavagno at Gladstone Morgan.info@gladstonemorgan.com
Disclaimer: All content provided on this page are for informational purposes only. Gladstone Morgan Limited makes no representations as to the accuracy or completeness of any information on this page or found by following any link on this page. Gladstone Morgan Limited will not be liable for any errors or omissions in this information nor for the availability of this information. Gladstone Morgan Limited will not be liable for any losses, injuries, or damages from the display or use of this information. This policy is subject to change at any time.
It should be noted the services available from Gladstone Morgan Limited will vary from country to country. Nothing in the comments above should be taken as offering investment advice or making an offer of any kind with regard to financial products or services. It is therefore important to reinforce that all comments above are designed to be general in nature and should not be relied upon for considering investment decisions without talking to licensed advisers in the country you reside or where your assets may located.Gladstone Morgan Ltd is not SFC authorized. Gladstone Morgan Ltd in Hong Kong is licensed with the Hong Kong Confederation of Insurance Brokers.