Slowing economic growth in China – a cause for concern?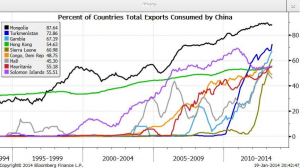 The word "stimulus" has always had a negative connotation to it in the common parlance of China's monetary authorities. The official line has always been that China neither needs nor wants stimulus, and that the focus is on reforms to put the slowing economy on a stable footing for the long run.
But the cooling property market, is causing concerns that the official goal of 7.5% growth might not be achievable. Last month, the Chinese government came out with an array of adrenaline shots aimed at boosting the sagging growth. The term was wisely chosen as "mini-stimulus". The government pledged to invest to the tune of $128 billion in the railways, launch huge water-management projects and other giant infrastructure initiatives to increase spending and pick up the growth levels.
Many observers consider this a far cry from the $641 billion stimulus that the government launched in 2012. Though the authorities have other weapons, such as lowering interest rates and reserve ration in their arsenal, it is paramount that they act swiftly and decisively to bolster growth.
How China negotiates slow-down matters to the world economy. The deepening concerns of the world's no.2 economy are being felt across all the continents. Below is a graph that shows the total exports consumed by China:
The following are the countries most dependent upon China
Therefore a slowing China is not just a domestic issue, it has broader implications for the other nations that depend on China. This would trickle down to corporates that have either direct or indirect exposure to China, as well as world stock markets that are more interconnected than ever. Individual investors have to stay cautious on how this might affect their investments.
Contact Dino Zavagno MD at Gladstone Morgan or a member of his team to discuss how the China Story will impact your investments.
Disclaimer: All content provided on this page are for informational purposes only. Gladstone Morgan Limited makes no representations as to the accuracy or completeness of any information on this page or found by following any link on this page. Gladstone Morgan Limited will not be liable for any errors or omissions in this information nor for the availability of this information. Gladstone Morgan Limited will not be liable for any losses, injuries, or damages from the display or use of this information. This policy is subject to change at any time.
It should be noted the services available from Gladstone Morgan Limited will vary from country to country. Nothing in the comments above should be taken as offering investment advice or making an offer of any kind with regard to financial products or services. It is therefore important to reinforce that all comments above are designed to be general in nature and should not be relied upon for considering investment decisions without talking to licensed advisers in the country you reside or where your assets may located.Gladstone Morgan Ltd is not SFC authorized. Gladstone Morgan Ltd in Hong Kong is licensed with the Hong Kong Confederation of Insurance Brokers.