Shell-BG – Why it's a big deal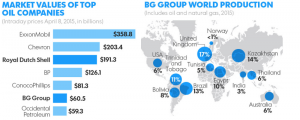 6 Key Points of the Deal
Royal Dutch Shell is buying BG Group for about $70 billion in cash and stock
1. The big deal – the biggest in the energy world since Exxon Mobil bought XTOEnergy for $31 billion more than five years ago.
2. It's sooner than expected – analysts were forecasting consolidation among the big energy companies due to falling energy prices, but not so soon after oil started its decline last summer.
It comes at a time when energy prices are tumbling, hurting energy companies including both Shell and BG. Crude Oil prices are at their lowest levels in six years, since the depth of the financial meltdown in 2009.
3. Shell gains – according to the deal Shell will create a company with 25% more proved oil and gas reserves than Shell alone now has. And it will add 20% to production and provides Shell with new, undeveloped oil and gas projects, particularly in Australia, Brazil, and East Africa.
4. The merger creates the world's largest independent producer of LNG – Shell-BG will account for 16% of the world's LNG (liquefied natural gas) market. The combined company can exploit rising demand for natural gas, a relatively plentiful and clean-burning fuel.
5. Other Majors are likely to look at M & A's – the deal is likely to accelerate interest in energy mergers and acquisitions.
The biggest oil companies such as ExxonMobil, ChevronTexaco and BPAmoco, may also act or maybe they will hold back as they are already large enough to enjoy the advantages that Shell and BG create for themselves by marrying.
6. BG Shareholders Benefit – Shell offered a huge 50% premium over BG's share price close of 13.57 on April 7th – the Benefit of the announcement to BG shareholders is that they would own approx. 19% of the merged company.
As more events unfold we will be providing additional updates on this topic as well as selected other most significant events. We would also like to invite you to join or Linkedin group where you will also be able to comment. Our posts are made twice weekly.
If you would like to know more about how oil and gas prices will affect energy related funds then please contact one of our advisers at Gladstone Morgan, we will be happy to discuss it in more detail with you. Email: info@gladstonemorgan.com.
Disclaimer: All content provided on this page are for informational purposes only. Gladstone Morgan Limited makes no representations as to the accuracy or completeness of any information on this page or found by following any link on this page. Gladstone Morgan Limited will not be liable for any errors or omissions in this information nor for the availability of this information. Gladstone Morgan Limited will not be liable for any losses, injuries, or damages from the display or use of this information. This policy is subject to change at any time.
It should be noted the services available from Gladstone Morgan Limited will vary from country to country. Nothing in the comments above should be taken as offering investment advice or making an offer of any kind with regard to financial products or services. It is therefore important to reinforce that all comments above are designed to be general in nature and should not be relied upon for considering investment decisions without talking to licensed advisers in the country you reside or where your assets may located. Gladstone Morgan Ltd is not SFC authorized. Gladstone Morgan Ltd in Hong Kong is licensed with the Hong Kong Confederation of Insurance Brokers.