Ruble – rise from Zero to Hero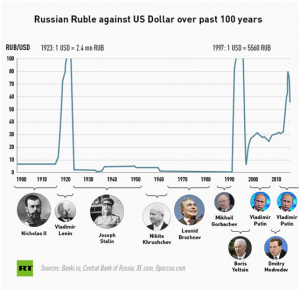 The Russian Ruble is strengthening against all other major currencies. It is the world's best performing currency of 2015 so far, according to Bloomberg. Economists had predicted that the Ruble would continue to perform poorly as the price of oil stayed low, because Russia's economy is largely dependent on oil revenue. But oil prices are still low, and the Ruble has slowly but steadily grown stronger against the dollar.
The Ruble has climbed 17 percent this year, following a 46 percent slide in 2014. The 2014 Ruble nosedive was in tandem with oil prices, as well as panic that sanctions and low oil prices would negatively affect the Russian economy. The currency rout in 2014 helped Russia to keep its budget deficit within 1 percent of gross domestic product. Now, with the cease-fire in Ukraine and the allure of higher-yielding assets attracting investors to Ruble debt, the government is seeing the opposite effect.
The Russian economy lost $160 billion from $500 billion it normally received from oil revenues, because of the lower oil prices. Capital outflows, which reached $77 billion in the final quarter of 2014, slowed down to $32 billion in the first quarter of 2015.The imposition of informal capital controls in December, which required large Russian exporters to exchange foreign currency balances for Rubles, helped stem the outward flow of capital.
The wider Russian economy is performing badly. Prices continue to rise, with annualized inflation reaching nearly 17 percent in March. Russia is afflicted by a severe and prolonged slowdown in the rate of growth.With Russia's inflation rising and its economy contracting, Moscow has come up with a new measure to keep calm on the streets: A 16 percent drop in the price of vodka, the new minimum price for half a liter of vodka is 185 Rubles ($2.60), a drop from a previous price of 220 Rubles ($3.10).
Russian President Vladimir Putin has become increasingly upbeat about the state of the Russian economy, despite widespread expectations that it will fall into recession this year. Much of this optimism has been centered on the rise of Ruble but investors should be wary of false dawns. Trying to assess Russia as an investment case is more difficult. Russia is cheap – but then, cheap doesn't necessarily equate to value. Talk to Gladstone Morgan Specialists for more on this topic.info@gladstonemorgan.com
Disclaimer: All content provided on this page are for informational purposes only. Gladstone Morgan Limited makes no representations as to the accuracy or completeness of any information on this page or found by following any link on this page. Gladstone Morgan Limited will not be liable for any errors or omissions in this information nor for the availability of this information. Gladstone Morgan Limited will not be liable for any losses, injuries, or damages from the display or use of this information. This policy is subject to change at any time.
It should be noted the services available from Gladstone Morgan Limited will vary from country to country. Nothing in the comments above should be taken as offering investment advice or making an offer of any kind with regard to financial products or services. It is therefore important to reinforce that all comments above are designed to be general in nature and should not be relied upon for considering investment decisions without talking to licensed advisers in the country you reside or where your assets may located. Gladstone Morgan Ltd is not SFC authorized. Gladstone Morgan Ltd in Hong Kong is licensed with the Hong Kong Confederation of Insurance Brokers.