Red-hot UK Property Market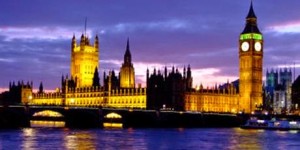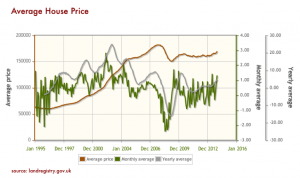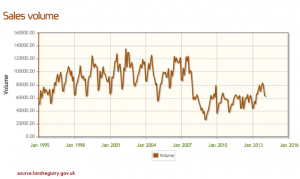 The UK property market has recently raised concerns on the stability of the economy. The average house price in Britain rose in May 2014 to £186,512. This is an increase of nearly 11% from the prices in May 2013. The average house price in London was £362,699 in the first quarter of 2014. Property prices are rising at an annual rate of 17% in London, compared with 8% in the UK as a whole.
When the record low interest rates start to rise, existing homeowners who are highly leveraged might struggle with their mortgage payments. This has prompted the Chancellor of the Exchequer to give the Bank of England new powers to prevent the housing market from overheating. Tighter standards for mortgage approvals are kicking in to ensure that the banks stop lending at levels higher than the applicants' repayment capacity.
The following graphs show the average house prices and sales volume in all of England and wales.
Britain has clawed back all the losses it suffered during the 2008 recession. The level of UK GDP is approximately 0.2% above its previous high in January 2008. We hope that the overheating of the property market does not derail the economic growth once again.
Contact Dino Zavagno MD at Gladstone Morgan or a member of his team to arrange a consultation on this subject.
Disclaimer: All content provided on this page are for informational purposes only. Gladstone Morgan Limited makes no representations as to the accuracy or completeness of any information on this page or found by following any link on this page. Gladstone Morgan Limited will not be liable for any errors or omissions in this information nor for the availability of this information. Gladstone Morgan Limited will not be liable for any losses, injuries, or damages from the display or use of this information. This policy is subject to change at any time.
It should be noted the services available from Gladstone Morgan Limited will vary from country to country. Nothing in the comments above should be taken as offering investment advice or making an offer of any kind with regard to financial products or services. It is therefore important to reinforce that all comments above are designed to be general in nature and should not be relied upon for considering investment decisions without talking to licensed advisers in the country you reside or where your assets may located.Gladstone Morgan Ltd is not SFC authorized. Gladstone Morgan Ltd in Hong Kong is licensed with the Hong Kong Confederation of Insurance Brokers.