Oracle of Omaha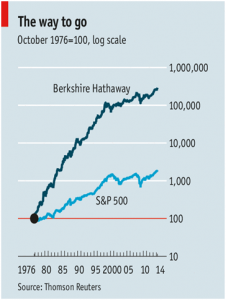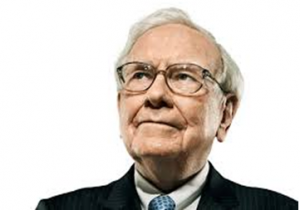 At the age of 84 Warren Buffett is still at the top of his game. Berkshire Hathaway, the conglomerate Mr. Buffett has managed for the past 50 years, is the fifth-most-valuable public company in the U.S., with a market cap of nearly $350 billion. Berkshire Hathaway controls more than 80 companies, and has stake in many fortune 500 companies such as Coca Cola, Heinz, IBM, Goldman Sachs, GE and others.
Every year the company hosts more than 37,000 shareholders in an arena in Omaha. Dubbed as the "Woodstock for capitalists", the company allows attendees more than six hours to ask Mr. Buffet any questions.Prior to the event, Mr. Buffet releases an annual letter to shareholders. This year's letter is even more expansive than usual, being Buffett's 50th.
One of the highlights of this year's letter is the mention of the massive return (close to 1,826,163%) the company stocks have provided to its investors. In it, Buffett talks about the company's successes, but also its mistakes.
At the peak of Dotcom bubble, Mr. Buffet stuck to his investment principles even when the mood of the market was against him. From the end of June 1998 to the end of February 2000, Berkshire Hathaway's share price fell by 44% while the overall stock market rose by 32%. But declining to invest in companies he did not understand paid off pretty well when the bubble burst.
The pursuit of value has been the abiding obsession of Warren Buffett in the 50 years since he took over Berkshire Hathaway and, in fact, far before then.
Buffet strongly believes that historically in securities markets, intrinsic value is the eventual prime determinant of stock prices.He quips 'In the short run the market is a voting machine, but in the long run it is a weighing machine.
Another big Buffett takeaway is: invest, rather than speculate.
If you are looking to build a secure financial future, start early investing on regular basis and be disciplined with your investments.
Spread your portfolio around asset classes in a sensible manner. As Mr. Buffet says "Price is what you pay; value is what you get". For valuable financial advice, talk to the experienced and professional team at Gladstone Morgan.
Disclaimer: All content provided on this page are for informational purposes only. Gladstone Morgan Limited makes no representations as to the accuracy or completeness of any information on this page or found by following any link on this page. Gladstone Morgan Limited will not be liable for any errors or omissions in this information nor for the availability of this information. Gladstone Morgan Limited will not be liable for any losses, injuries, or damages from the display or use of this information. This policy is subject to change at any time.
It should be noted the services available from Gladstone Morgan Limited will vary from country to country. Nothing in the comments above should be taken as offering investment advice or making an offer of any kind with regard to financial products or services. It is therefore important to reinforce that all comments above are designed to be general in nature and should not be relied upon for considering investment decisions without talking to licensed advisers in the country you reside or where your assets may located.Gladstone Morgan Ltd is not SFC authorized. Gladstone Morgan Ltd in Hong Kong is licensed with the Hong Kong Confederation of Insurance Brokers.