Oil – The crude reality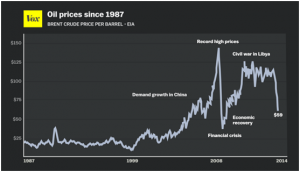 The crashing price of oil, which dominated the world of energy in the last six months, and promises to stay with us for much of 2015, has brought cheers across many nations except for Russia, Iran and Venezuela.
From 2010 until mid-2014, world oil prices had been fairly stable, at around $110 (£68) a barrel. But since June 2014 prices have almost halved. The reasons for this change are twofold – weak demand in many countries due to insipid economic growth, coupled with surging US production.
Added to this is a determination by the oil cartel Opec that it is not going to prop up prices by cutting production.
Venezuela is one of the world's largest oil exporters, but thanks to economic mismanagement it was already finding it difficult to pay its way even before the oil price started falling. There's growing concern that the oil crash could cause Venezuela, another major oil producer, to default.
The fall in prices dramatically reduces the income of Venezuela, which gets 96 percent of its foreign currency from oil exports. Venezuela is estimated to have the largest oil reserves in the world but depends largely on imports for basic goods, including food and medicine.
The late Hugo Chávez cozied up to China as part of his drive to curb U.S. influence in the Americas. Nicolás Maduro, the present president, like his predecessor, has relied on Beijing to underwrite Venezuela's flagging socialist revolution and finance the country's gaping fiscal deficits (this year's shortfall could amount to 15 percent of gross domestic product).
The South American oil giant confirmed that it has entered recession, while annual inflation topped 63 percent, exacerbating the outlook for an economy already hit by global crashing oil prices and import shortages.
With the financial markets being such a global and inter-connected marketplace, events from all corners of the globe can have an immediate effect on your investments. To know more about market triggers, and how they may influence your assets and investment holdings, talk to Dino Zavagno at Gladstone Morgan.info@gladstonemorgan.com
Disclaimer: All content provided on this page are for informational purposes only. Gladstone Morgan Limited makes no representations as to the accuracy or completeness of any information on this page or found by following any link on this page. Gladstone Morgan Limited will not be liable for any errors or omissions in this information nor for the availability of this information. Gladstone Morgan Limited will not be liable for any losses, injuries, or damages from the display or use of this information. This policy is subject to change at any time.
It should be noted the services available from Gladstone Morgan Limited will vary from country to country. Nothing in the comments above should be taken as offering investment advice or making an offer of any kind with regard to financial products or services. It is therefore important to reinforce that all comments above are designed to be general in nature and should not be relied upon for considering investment decisions without talking to licensed advisers in the country you reside or where your assets may located. Gladstone Morgan Ltd is not SFC authorized. Gladstone Morgan Ltd in Hong Kong is licensed with the Hong Kong Confederation of Insurance Brokers.