Obesity – A 21st Century Epidemic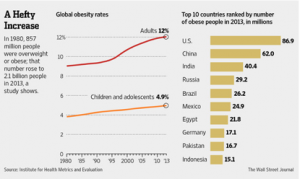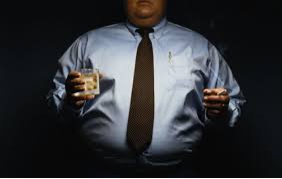 China is getting fatter and it's weighing down the future of its children. The country is now 2nd ranked for obesity, with its number of obese residents outstripped only by the U.S. Its obesity rate has skyrocketed over the last three decades, resulting in 46 million obese Chinese adults and 300 million who are overweight.
The obesity epidemic is global: 2.1 billion people, or about 29% of the world's population, were either overweight or obese in 2013, and nearly two out of three of the obese live in developing countries. The prevalence of overweight and obese people rose by 27.5% for adults and 47.1% for children between 1980 and 2013.
More than 50% of the world's 671 million obese people live in just 10 countries, ranking them in order: the U.S., China, India, Russia, Brazil, Mexico, Egypt, Germany, Pakistan and Indonesia.
Obesity has been linked with various risks like:
· Type 2 diabetes.
· High Blood Pressure.
· Coronary heart disease.
· Stroke
· Some types of cancer, such as breast cancer and bowel cancer.
In the US, obesity is officially deemed a "disease" rather than a psychological failure of will. Brazil has laws that guarantee double-wide seats for obese fans in the current soccer World Cup.
Insurance companies are being compelled to look at the risks associated with obesity, especially in relation to Critical Illness policies.
Talk to Dino Zavagno MD at Gladstone Morgan or a member of his team and ensure your insurance policy/policies can cover you fully.
Disclaimer: All content provided on this page are for informational purposes only. Gladstone Morgan Limited makes no representations as to the accuracy or completeness of any information on this page or found by following any link on this page. Gladstone Morgan Limited will not be liable for any errors or omissions in this information nor for the availability of this information. Gladstone Morgan Limited will not be liable for any losses, injuries, or damages from the display or use of this information. This policy is subject to change at any time.
It should be noted the services available from Gladstone Morgan Limited will vary from country to country. Nothing in the comments above should be taken as offering investment advice or making an offer of any kind with regard to financial products or services. It is therefore important to reinforce that all comments above are designed to be general in nature and should not be relied upon for considering investment decisions without talking to licensed advisers in the country you reside or where your assets may located.Gladstone Morgan Ltd is not SFC authorized. Gladstone Morgan Ltd in Hong Kong is licensed with the Hong Kong Confederation of Insurance Brokers.