New US and China 10-year business and travel visas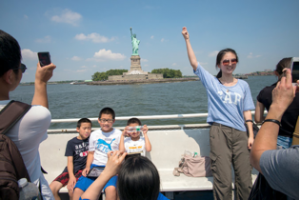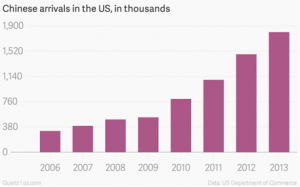 US President Barack Obama announced during the Apec Summit in Beijing that he will extend the validity of visas which is expected to boost private equity investment, real estate deals and cross border transactions in the US.
The United States and China announcement recently that they has extended the validity of business and tourist visas to up to 10 years, and student and exchange visas to up to five years has been very well received. Previously Chinese business travelers, as well as tourists, had to apply for a new visa to the US every year.
This extension could mean more Chinese individuals as well as institutions buying more US-based assets.
In President Obama's speech at the Asia Pacific Economic Cooperation forum, he stated that last year, 1.8 million Chinese visitors to the United States contributed US$21 billion to the American economy.
The White House believes a competitive visa arrangement could bring as many as 7.3 million Chinese travellers to the US by 2021, contributing US$85 billion a year to the economy.
The US issues nearly 2 million non-immigrant visas in China each year, according to the US Department of State. The new visa policy will offer more frequent access to the US. Therefore, the consensus is that these changes are likely to drive up the number of private equity investments and real estate deals. It is estimated that a large number of Chinese companies have brought entire buildings in the past two years for figures in excess of US$500 million.
Not only will the new extended visas boost investment and tourism, but also alleviate the pressure on Consulate resources. Travellers were previously assessed in relation to immigration intent every time they applied for a visa. Therefore, as they will now have longer visas, and can look at a longer investment perspective the feeling is that this will open up many more opportunities for Chinese individuals and Corporations in the USA and provide the US with a welcomed and increased revenue stream.
The Extended Visas will help sustain the growth that has been seen thus far.
To discuss how this US/China accord will affect companies in both US and China region call your Gladstone Morgan adviser on 2868 5958 or e mail to infor@gladstonemorgan.com
Disclaimer: All content provided on this page are for informational purposes only. Gladstone Morgan Limited makes no representations as to the accuracy or completeness of any information on this page or found by following any link on this page. Gladstone Morgan Limited will not be liable for any errors or omissions in this information nor for the availability of this information. Gladstone Morgan Limited will not be liable for any losses, injuries, or damages from the display or use of this information. This policy is subject to change at any time.
It should be noted the services available from Gladstone Morgan Limited will vary from country to country. Nothing in the comments above should be taken as offering investment advice or making an offer of any kind with regard to financial products or services. It is therefore important to reinforce that all comments above are designed to be general in nature and should not be relied upon for considering investment decisions without talking to licensed advisers in the country you reside or where your assets may located. Gladstone Morgan Ltd is not SFC authorized. Gladstone Morgan Ltd in Hong Kong is licensed with the Hong Kong Confederation of Insurance Brokers.