London Luxury Homes no longer "safe Deposit Boxes"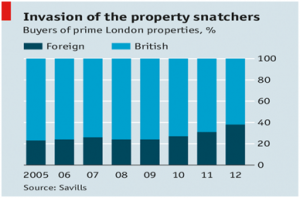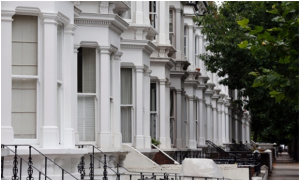 The U.K. attracted the most foreign investment of all European real estate markets, according to KPMG, securing an estimated 24 billion pounds in the first half of 2014, compared with Germany's 16.2 billion pounds as the second largest. Luxury-home owners who do not wish to retain their anonymity have to pay a new tax amount of as much as 143,750 pounds a year which yielded 100 million pounds last year, almost five times more than expected.
Approximately 44 percent of all buyers of existing homes in Prime Central London in the fourth quarter of last year were originally from overseas, according to broker Strutt & Parker LLP
In London's most expensive districts, Russians and Arabs seem to be competing to pay the highest price for properties which they rarely use.
The phenomenon known as buy-to-leave, with some investors not even bothering to pick up keys to properties, is now becoming an issue in the May national election as more than 460,000 U.K. homes lie vacant.
Tessa Jowell, bookmaker's favorite to replace Conservative Mayor Boris Johnson when he steps down in 2016, is making penalties for leaving homes empty, a principal part of her campaign.
A survey revealed that there is an estimated £350m worth of vacant properties on the most prestigious stretch of The Bishops Avenue in North London. Here are a few key facts and figures:
There are thought to be about 700,000 "long-term empty" homes in the UK, according to local authority council tax data.
22,000 of these "long-term empty" houses are in London.
In total, there are in excess of two million foreign owners of property in Britain.
40,725 properties in London are owned by foreign companies.
The government has tried to address the problem. Under tax changes in December, those buying a house for £937,000 or more face a higher Stamp Duty bill.The U.K. government recently introduced a capital-gains tax on future gains from apartments and houses owned by investors based overseas.
In February, house prices in London rose by 9.4% versus the previous year. In most places, that would represent heady growth, but it's a significant cooling-off for London, where average prices were rising approximately 20% per annum until recently.
The strength of the pound and new taxes on luxury properties will make London less attractive to the foreign buyers that have fuelled the recent boom. Stay tuned to Gladstone Morgan Blog for more on this topic.
Disclaimer: All content provided on this page are for informational purposes only. Gladstone Morgan Limited makes no representations as to the accuracy or completeness of any information on this page or found by following any link on this page. Gladstone Morgan Limited will not be liable for any errors or omissions in this information nor for the availability of this information. Gladstone Morgan Limited will not be liable for any losses, injuries, or damages from the display or use of this information. This policy is subject to change at any time.
It should be noted the services available from Gladstone Morgan Limited will vary from country to country. Nothing in the comments above should be taken as offering investment advice or making an offer of any kind with regard to financial products or services. It is therefore important to reinforce that all comments above are designed to be general in nature and should not be relied upon for considering investment decisions without talking to licensed advisers in the country you reside or where your assets may located. Gladstone Morgan Ltd is not SFC authorized. Gladstone Morgan Ltd in Hong Kong is licensed with the Hong Kong Confederation of Insurance Brokers.