London Effect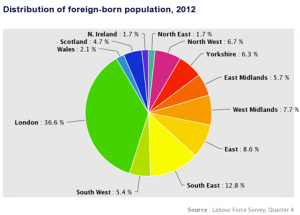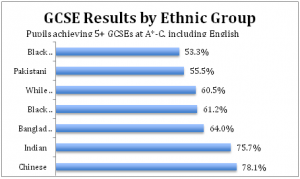 Britain remains the most lucrative destination for migrants. Nearly half of the UK's migrants live in London and a third of London's residents were born abroad.
London has the best GCSE results in England, well above the nation wide average. Between 2003 and 2011 London moved from being the lowest performing of England's nine regions for GCSE results to the highest performing, and it has stayed there.
Research into the "London effect", which sees the capital's schools outperforming the rest of the country in their GCSEs, puts the achievement down to the diverse ethnic make-up of its schools. London's GCSE results are due to the large numbers of teenagers from high performing ethnic groups especially from families of recent migrants. White British pupils make up just a third of 16-year-olds in London compared with 84 per cent in the rest of England. In London, 34.7 per cent of the population was born abroad and arrived before the year 2000. The research also explains that schools with a diverse pupil population performed significantly better than those filled with white British children.
The best way to measure how a school, or a city-wide school system, fares is to look at pupil progress. On average, pupils in London score eight GCSE grade points higher than the rest of England relative to their performance at the age of 11. According to a survey, the East Asian pupils put in an extra six hours of study at home each week.
Education is the key to success. Dino Zavagno's team at Gladstone Morgan understand that providing your children with a first class education is one of the most valuable gifts you can give them. Contact our specialists who can help select the program most suited to your individual needs, at info@gadstonemorgan.com
Disclaimer: All content provided on this page are for informational purposes only. Gladstone Morgan Limited makes no representations as to the accuracy or completeness of any information on this page or found by following any link on this page. Gladstone Morgan Limited will not be liable for any errors or omissions in this information nor for the availability of this information. Gladstone Morgan Limited will not be liable for any losses, injuries, or damages from the display or use of this information. This policy is subject to change at any time.
It should be noted the services available from Gladstone Morgan Limited will vary from country to country. Nothing in the comments above should be taken as offering investment advice or making an offer of any kind with regard to financial products or services. It is therefore important to reinforce that all comments above are designed to be general in nature and should not be relied upon for considering investment decisions without talking to licensed advisers in the country you reside or where your assets may located. Gladstone Morgan Ltd is not SFC authorized. Gladstone Morgan Ltd in Hong Kong is licensed with the Hong Kong Confederation of Insurance Brokers.