Japan Downgraded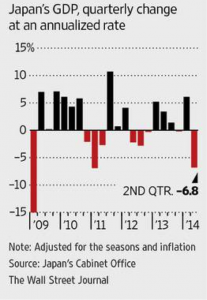 "Abenomics", which helped Shinzo Abe win the 2012 elections in Japan and march back into power, is based on the so-called "trickle down" theory, which suggests that greater spending by large companies and the wealthy can revitalize the economy as the benefits trickle down to small firms and low-income earners. Abenomics includes a monetary regime shift, fiscal stimulus measures, and structural reforms, also known as the "three arrows."
The Abe government had taken several aggressive measures to enliven the economy and to trigger some inflation, including a $1.4 trillion stimulus, reduction of government held debt and bond buyback. In the process, Shinzo Abe might have triggered a recession when he raised taxes in April to reduce excessive government debt. Between April and September, the world's third-largest economy registered successive quarters of shrinking gross domestic product (GDP).
On Nov 21st, Mr. Abe dissolved his government and called for snap polls. The upcoming elections are framed as a broader referendum on Abe's economic recovery measures. While Mr. Abe is convincing voters to choose growth, Moody's- the rating agency, downgraded Japan's ratings on Dec 1.
The government of Japan is now a riskier borrower than either China or South Korea. The renewed rating puts Japan's sovereign credit rating on par with Bermuda, Oman and Estonia.
As the world's third largest economy comes to terms with a lowered rating and its' impact on borrowing costs, the world markets are looking for some positive guidance before the year draws to an end. To know more on this topic, contact Dino Zavagno and his team at Gladstone Morgan at info@gladstonemorgan.com
Disclaimer: All content provided on this page are for informational purposes only. Gladstone Morgan Limited makes no representations as to the accuracy or completeness of any information on this page or found by following any link on this page. Gladstone Morgan Limited will not be liable for any errors or omissions in this information nor for the availability of this information. Gladstone Morgan Limited will not be liable for any losses, injuries, or damages from the display or use of this information. This policy is subject to change at any time.
It should be noted the services available from Gladstone Morgan Limited will vary from country to country. Nothing in the comments above should be taken as offering investment advice or making an offer of any kind with regard to financial products or services. It is therefore important to reinforce that all comments above are designed to be general in nature and should not be relied upon for considering investment decisions without talking to licensed advisers in the country you reside or where your assets may located. Gladstone Morgan Ltd is not SFC authorized. Gladstone Morgan Ltd in Hong Kong is licensed with the Hong Kong Confederation of Insurance Brokers.