Italy wrestles deflation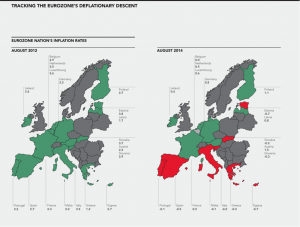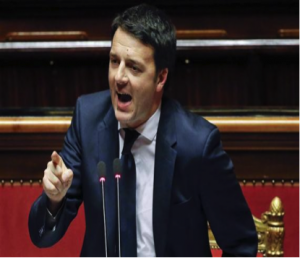 It was the famous Italian writer Giuseppe Tomasi di Lampedusa who observed that the young feel sorrows much more sharply than the old; the latter are nearer the safety exit. Italy has one of the world's oldest and most rapidly aging populations – the kind of people who don't spend.
Prime Minister Matteo Renzi, aged 39, is a revolutionary politician in that his youth, dynamism and relative transparency are shaking up old habits. Yet Italy, a large economy with a huge public debt, is the country causing most worry in Euro zone.
Italy's unemployment rate unexpectedly rose above 13 percent in October, setting a record as businesses refrain from hiring amid the country's longest recession since World War II. The youth unemployment rate for those aged 15 to 24 rose to 43.3 percent in October from 42.7 percent in September.
Falling prices eat into company profits and lead to pay cuts and job losses, further depressing demand. Italy is being sucked into a deflationary spiral. Italians, historically big savers, are not spending enough, as they are certain that the prices of goods will fall further down. Italy has fewer credit cards per person than any other country in the Eurozone except Slovakia.
Italy is stuck in a rut of diminishing expectations. Numbed by years of wage freezes and skeptical the government can improve their economic fortunes; Italians are hoarding their savings and postponing even basic purchases.
Deflation – or continuously falling consumer prices – is considered worse than inflation. To understand how deflation can affect your retirement goals, consult a member of Dino Zavagno's team of advisers at Gladstone Morgan at info@gladstonemorgan.com
Disclaimer: All content provided on this page are for informational purposes only. Gladstone Morgan Limited makes no representations as to the accuracy or completeness of any information on this page or found by following any link on this page. Gladstone Morgan Limited will not be liable for any errors or omissions in this information nor for the availability of this information. Gladstone Morgan Limited will not be liable for any losses, injuries, or damages from the display or use of this information. This policy is subject to change at any time.
It should be noted the services available from Gladstone Morgan Limited will vary from country to country. Nothing in the comments above should be taken as offering investment advice or making an offer of any kind with regard to financial products or services. It is therefore important to reinforce that all comments above are designed to be general in nature and should not be relied upon for considering investment decisions without talking to licensed advisers in the country you reside or where your assets may located. Gladstone Morgan Ltd is not SFC authorized. Gladstone Morgan Ltd in Hong Kong is licensed with the Hong Kong Confederation of Insurance Brokers.