Is the Indian Tiger catching up with the Chinese Dragon?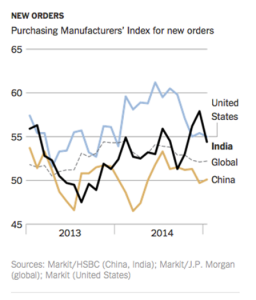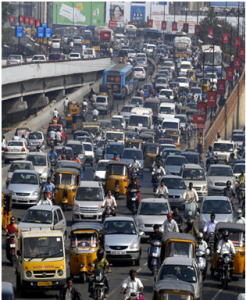 The remarkable rapid growth the world has seen in the last two decades marks the biggest economic transformation in modern history. In 1990 emerging markets accounted for less than a third of global GDP. In 2013, emerging markets accounted for more than half of world GDP on the basis of purchasing power. The most impressive growth was in four of the biggest emerging economies: Brazil, Russia, India and China. From 1993 to 2007 China averaged growth of 10.5% a year. India, with less reliance on trade, managed an average of 6.5%.
The most dramatic, and disruptive, period of growth is coming to its close. China's economy is slowing. Brazil is struggling as commodity prices plunge. Russia, facing Western sanctions and weak oil revenue, is headed into a recession.
As other big developing markets stumble, India is emerging as one of the few hopes for global growth. The stock market and rupee are surging.
The country's reliance on imported oil, for example, has been its bane for decades. With crude prices now halved, fuel costs for trucks and cars have plunged, pulling down transport expenses and inflation. The cost of government fuel subsidies has nose-dived, helping curb the country's chronic budget deficits. According to the IMF's world economic outlook report, India is set to report one of the highest GDP growth rates in 2016.
Despite intense volatility in foreign currency market in recent months with dollar surging and euro caving in, the rupee has proved quite resilient, moving between 60 and 64 against the dollar.
The country is attracting more foreign direct investment. Late last year, Japan and China pledged $35 billion and $20 billion to India, respectively, over the next five years. Auto companies, like Chevrolet, are setting up production facilities under the expectation that India will have the third largest auto market by 2020.
There was a similar level of enthusiasm last decade before growth slowed and corruption worsened. The World Bank currently ranks India as the 142nd hardest place to do business. As India's fortunes begin to shift, the newly elected government is trying to tackle thornier economic and bureaucratic issues.
So don't count on it just yet. But India's economic revival is a good sign. Keep an eye on this space.
Disclaimer: All content provided on this page are for informational purposes only. Gladstone Morgan Limited makes no representations as to the accuracy or completeness of any information on this page or found by following any link on this page. Gladstone Morgan Limited will not be liable for any errors or omissions in this information nor for the availability of this information. Gladstone Morgan Limited will not be liable for any losses, injuries, or damages from the display or use of this information. This policy is subject to change at any time.
It should be noted the services available from Gladstone Morgan Limited will vary from country to country. Nothing in the comments above should be taken as offering investment advice or making an offer of any kind with regard to financial products or services. It is therefore important to reinforce that all comments above are designed to be general in nature and should not be relied upon for considering investment decisions without talking to licensed advisers in the country you reside or where your assets may located.Gladstone Morgan Ltd is not SFC authorized. Gladstone Morgan Ltd in Hong Kong is licensed with the Hong Kong Confederation of Insurance Brokers.