Inflation Erodes your Savings and Investments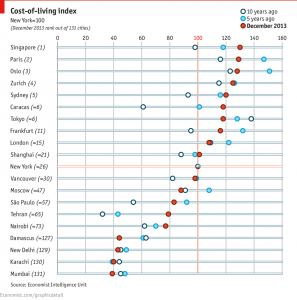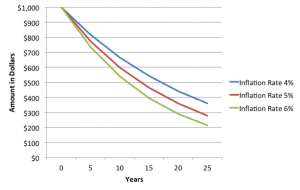 The 2008 financial crisis resulted in an era of low interest rate environment across the world triggering inflation across different asset classes. Cost of living has increased substantially in most global cities over the past five years with Singapore now topping the charts.
With interest rates in regular savings bank accounts near zero, savings alone will not ensure inflation coverage, let alone achieve future life goals, wealth transfer plans and expense levels. Given that wage/income increase might not be commensurate with cost of living increases, one has to look at alternative investments to over-perform or keep up with inflation and ensure that lifestyle is not eroded due to increased cost of living, thereby meeting one's long-term goals besides saving for the rainy day.
Here is a simple illustration of how you would lose money if your money is not growing at the rate of inflation.
With busy schedules, it is often difficult to closely monitor the performance of the market to time your investment and also manage your money. In addition to timing the market, one needs to have the available tools and knowledge besides funds to assess the right investment vehicle to make a sizeable investment to make the returns worth the effort. Thus with the help of available regular investment solutions an investor can set aside a fixed sum of money at regular intervals to invest in the investment avenue of his/her choosing. Through this, he/she is able to take advantage of 'dollar-cost-averaging' where the investor is not relying on timing the market to make his investment. The below table is an illustration to elaborate further –
An investor invests US$250 every month in a regular investment plan and over the course of 7 months has amassed 4363 units of the security at an average price of $0.42. Thus, when the price is low he can buy more units and sell them at a higher price.
Month
Monthly Investment
Price
Number of securities
January
$250
$0.45
571
February
$250
$0.48
533
March
$250
$0.39
667
April
$250
$0.35
727
May
$250
$0.38
678
June
$250
$0.42
615
July
$250
$0.45
571
Total
$1750
–
4363
Average price/value
$0.42
$1845
This is for illustration only. Price/Value of investments can vary subject to market conditions
This regular investment habit can be extended from the security appreciation example above to general capital appreciation, achieving your long term financial goals and even to retirement planning. At Gladstone Morgan, we are able to provide valuable insights into the process of creating a customised investment strategy for all your future goals.
In the subsequent article, we will explore the other aspects of personal finances and regular savings/investing.
Disclaimer: All content provided on this page are for informational purposes only. Gladstone Morgan Limited makes no representations as to the accuracy or completeness of any information on this page or found by following any link on this page. Gladstone Morgan Limited will not be liable for any errors or omissions in this information nor for the availability of this information. Gladstone Morgan Limited will not be liable for any losses, injuries, or damages from the display or use of this information. This policy is subject to change at any time.
It should be noted the services available from Gladstone Morgan Limited will vary from country to country. Nothing in the comments above should be taken as offering investment advice or making an offer of any kind with regard to financial products or services. It is therefore important to reinforce that all comments above are designed to be general in nature and should not be relied upon for considering investment decisions without talking to licensed advisers in the country you reside or where your assets may located.Gladstone Morgan Ltd is not SFC authorized. Gladstone Morgan Ltd in Hong Kong is licensed with the Hong Kong Confederation of Insurance Brokers.