India´s Dollar Buying and the Rupee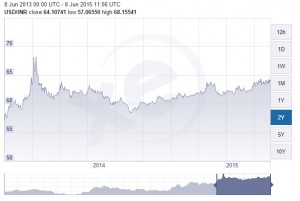 The Reserve Bank of India could potentially buy a record amount of dollars for the second year running to keep the country's products competitive compared to those in other emerging market economies.
The central bank has already bought over $20 billion in this first half of 2015. This follows a record buying of $82 billion in 2014.
In March 2015 the Reserve Bank of India (RBI) began their purchase as the rupee started to gain. (see chart below)
The currency ended at 64.10/$ today 8th June 2015.
"Flows could slow down compared with 2014, but the RBI will continue to buy dollars," said Ashish Parthasarthy, head of treasury, HDFC Bank. Hitendra Dave, head of global markets at HSBC, agrees. "The difference between 2014 and 2015 is that the current account deficit is far lower. Assuming the same amount of capital flows, it leaves a much higher amount of absorbable surplus for the RBI," he said.
The Rupee has been rapidly appreciating against other currencies, such as the euro and the Japanese yen. The Real Effective Exchange Rate (REER) shows that since March the Indian rupee has been overvalued by 13%. The RBI's REER which measures the currency's competitive value against 36 other currencies was 113.23 in March, which means the rupee has to depreciate by at least 13% for Indian exports to reach a secure competitiveness.
"The rupee has remained strong relative to peer countries. While an excessively strong rupee is undesirable, it too creates disinflationary impulses," RBI Governor Raghuram Rajan recently said in a statement.
However, Rajan went on to reiterate that RBI does not target exchange rates within their purchase algorithms.
If you would like to know more about how to grow your investment funds then please contact one of our advisers at Gladstone Morgan, who will be happy to discuss it in more detail with you.
We would also like to invite you to join our Linkedin group where you will also be able to comment on our posts with our other followers. Our posts are made twice weekly.
Email: info@gladstonemorgan.com.
Disclaimer: All content provided on this page are for informational purposes only. Gladstone Morgan Limited makes no representations as to the accuracy or completeness of any information on this page or found by following any link on this page. Gladstone Morgan Limited will not be liable for any errors or omissions in this information nor for the availability of this information. Gladstone Morgan Limited will not be liable for any losses, injuries, or damages from the display or use of this information. This policy is subject to change at any time.
It should be noted the services available from Gladstone Morgan Limited will vary from country to country. Nothing in the comments above should be taken as offering investment advice or making an offer of any kind with regard to financial products or services. It is therefore important to reinforce that all comments above are designed to be general in nature and should not be relied upon for considering investment decisions without talking to licensed advisers in the country you reside or where your assets may located. Gladstone Morgan Ltd is not SFC authorized. Gladstone Morgan Ltd in Hong Kong is licensed with the Hong Kong Confederation of Insurance Brokers.