Increasing cost of education- 100% Increase in tuition fees in 5 years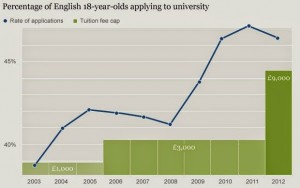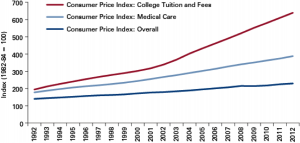 The global economy is transforming increasingly into a knowledge based economy. In the 21st century, top paying jobs tend be in the world of medicine, law, engineering, finance, marketing etc., most of which require a highly qualified education. More often than not, access to quality education is the key determinant of an individual's success. Access to education is getting expensive globally as shown in the charts below.
Source: Indiana Business Review – Onward and Upward with the Cost of College
And access to top universities is rising at an even faster rate. Tuition fee at top universities for 2013/2014, a stepping stone for success, costs an average $36K/annum as shown in the table below. These figures reflect a steep increase in tuition fees for the top universities with the 2007/2008 average annual fee standing at $18,464 or an increase of 100% over just five years.
University
Domestic Tuition fees (US$)
International Student Tuition fees (US$)
Massachusetts Institute of Technology (MIT)
$36,000
$36,000
Harvard University
$38,891
$38,891
University of Cambridge
$14,000
$24-32,000
University College London (UCL)
$14,000
$24-32,000
Imperial College London
$14,000
$38-40,000
University of Oxford
$14,000
$24-32,000
Stanford University
$42,690
$42,690
Yale University
$43,100
$43,100
University of Chicago
$45,324
$45,324
California Institute of Technology (Caltech)
$39,990
$39,990
Princeton University
$40,170
$40,170
Average
~36,000
Source: //www.topuniversities.com/
Gladstone Morgan understands that providing your children with a first class education is one of the most valuable gifts you can give. However, as the cost of education continues to increase far above the general levels of wage and inflation, as shown above, effective planning is essential. We at Gladstone Morgan will help you carefully assess your financial position and advise on the best way forward to secure the future of your children.
Disclaimer: All content provided on this page are for informational purposes only. Gladstone Morgan Limited makes no representations as to the accuracy or completeness of any information on this page or found by following any link on this page. Gladstone Morgan Limited will not be liable for any errors or omissions in this information nor for the availability of this information. Gladstone Morgan Limited will not be liable for any losses, injuries, or damages from the display or use of this information. This policy is subject to change at any time.
It should be noted the services available from Gladstone Morgan Limited will vary from country to country. Nothing in the comments above should be taken as offering investment advice or making an offer of any kind with regard to financial products or services. It is therefore important to reinforce that all comments above are designed to be general in nature and should not be relied upon for considering investment decisions without talking to licensed advisers in the country you reside or where your assets may located.Gladstone Morgan Ltd is not SFC authorized. Gladstone Morgan Ltd in Hong Kong is licensed with the Hong Kong Confederation of Insurance Brokers.