Hong Kong – Shanghai "Through Train"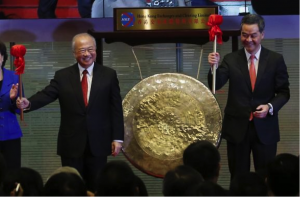 Shanghai-Hong Kong Stock Connect is a securities trading and clearing link program jointly developed by Hong Kong Exchanges and Clearing Limited, Shanghai Stock Exchange and China Securities Depository and Clearing Corporation Limited. The connect had a stellar debut on Nov 17 and it marks one of China's biggest steps toward opening up its capital account, increasing global use of the Yuan and turning Shanghai into an international financial center.
The link allows any global investor with a Hong Kong brokerage account to buy a selection of Shanghai shares, expanding access to the 24-year-old market from a small number of foreign institutional money managers. Mainland traders with at least 500,000 Yuan in their accounts are eligible to purchase Hong Kong shares through the connect.
Trade from Shanghai to Hong Kong is limited to 250 Billion Yuan in total, i.e. 1.8% of the combined capitalization of the Hang Seng and H-Share Index. Mainland investors will be able to buy up to 10.5 Billion Yuan of stock per day. Funds going into Shanghai are limited to 300 billion Yuan daily or 1.7% of the Shanghai A-share capitalization. Foreign investors will be limited to 13 billion Yuan per day. The quota restrictions signal that Beijing does not want foreigners to buy too much of the market, thereby bringing in volatile hot money. And there is an indication that the quota could be raised as the trade volume picks up.
The Shanghai-Hong Kong Stock Connect heralds broader changes in global capital markets. We are progressing towards a world in which stock exchanges with very different jurisdictions, various compliance regulators, different taxation authorities and the cumbersome process of settlement-custody-brokerages, can work together for a common purpose. Thus presenting a much larger investment platform for todays savvy investors.
To know more on how you can make use of the Shanghai – Hong Kong Stock Connect, which is now the world's third largest stock exchange by trading value, next only to New York Stock Exchange and NASDAQ, please contact Dino Zavagno at Gladstone Morgan at info@gladstonemorgan.com
Disclaimer: All content provided on this page are for informational purposes only. Gladstone Morgan Limited makes no representations as to the accuracy or completeness of any information on this page or found by following any link on this page. Gladstone Morgan Limited will not be liable for any errors or omissions in this information nor for the availability of this information. Gladstone Morgan Limited will not be liable for any losses, injuries, or damages from the display or use of this information. This policy is subject to change at any time.
It should be noted the services available from Gladstone Morgan Limited will vary from country to country. Nothing in the comments above should be taken as offering investment advice or making an offer of any kind with regard to financial products or services. It is therefore important to reinforce that all comments above are designed to be general in nature and should not be relied upon for considering investment decisions without talking to licensed advisers in the country you reside or where your assets may located.Gladstone Morgan Ltd is not SFC authorized. Gladstone Morgan Ltd in Hong Kong is licensed with the Hong Kong Confederation of Insurance Brokers.