Growth in Africa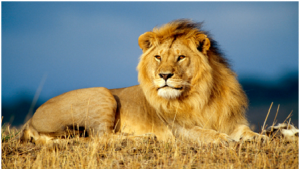 Africa is home to one-third of the world's arable land and one-third of world's resources. In 2013, the total real GDP of Africa was US$2.1trillion, equating to 3% of the world's US$70Trillion.While Asia's tiger economies continue to set the pace for global GDP growth, they are increasingly crossing paths with Africa's lions.
Key to the surge in Africa's growth is the collective government reforms that are creating greater political stability, improving the macroeconomic conditions and fostering a healthier business environment.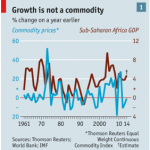 Government revenues have been bolstered in recent years as a result of commodity boom. Instead of going on a spending spree the governments have been cautious and put money aside, thus cushioning their economies in the recession.
One of the factors that helped change Africa's fortune has been the rise in commodity prices. The continent has benefited from big inflows of foreign direct investments in commodity sector. The governments quickly realized that the commodity-driven growth does not generate many jobs and hence is not sustainable. This led to a shift in focus and disinvestments, thus fuelling growth in sectors such as manufacturing, infrastructure, banking and telecommunications.
One of the key-drivers of Africa's growth is its demographics. At present, an estimated 1.1 billion people live in Africa, compared with China's near 1.4
billion. Africa has the youngest population of any continent, with 45% being under the age of 15. Another key driver of Africa's growth is its increasing middle class, currently larger than that of India.
Africa is a diverse continent and it is not without its challenges. Of course there are risks – notably political, currency and liquidity risks. But the potential rewards are commensurate with these risks. Talk to Dino Zavagno or a member of his team for more information on emerging opportunities in Africa.info@gladstonemorgan.com
Disclaimer: All content provided on this page are for informational purposes only. Gladstone Morgan Limited makes no representations as to the accuracy or completeness of any information on this page or found by following any link on this page. Gladstone Morgan Limited will not be liable for any errors or omissions in this information nor for the availability of this information. Gladstone Morgan Limited will not be liable for any losses, injuries, or damages from the display or use of this information. This policy is subject to change at any time.
It should be noted the services available from Gladstone Morgan Limited will vary from country to country. Nothing in the comments above should be taken as offering investment advice or making an offer of any kind with regard to financial products or services. It is therefore important to reinforce that all comments above are designed to be general in nature and should not be relied upon for considering investment decisions without talking to licensed advisers in the country you reside or where your assets may located. Gladstone Morgan Ltd is not SFC authorized. Gladstone Morgan Ltd in Hong Kong is licensed with the Hong Kong Confederation of Insurance Brokers.