Growing Wealth Gap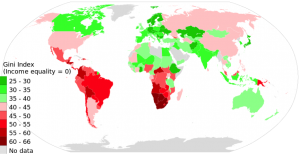 Never before in the modern history of the world have so few had so much and so many had so little. The 400 wealthiest Americans are now worth $2.29 trillion, a 13% increase from 2013; a huge increase in the ever Growing Wealth Gap.
In Europe, the wealthiest 10% of households own over half of the Continent wealth (A total of 56 Trillion euro), while the bottom half account far less than 10% of the total wealth.
Concentration of wealth across the developed nations is on the rise again, after much of the wealth was destroyed in the 20th century due to the shocks of two world wars and the great depression of 1929.
Emerging markets also face the issue of widening wealth gap. Wealth concentration is a major characteristic of income inequality. Asia-Pacific region had around 49,000 persons (0.001 per cent of Asia-Pacific population in 2013) classed as UHNWIs (Ultra Net worth Individuals), with about $7.5 trillion of net wealth in 2012-13. The top 10% of China's households control 86% of wealth and account for 56% of household income.
Gini Coefficient is a measure of the income distribution within a country, and runs from a value of 0 (where all have the same income) to 1 (where one person has all the income). The latest worldwide Gini coefficient is as follows
The growing worldwide wealth gap is unsustainable and the disparity between the rich, middle, and lower classes is likely to increase in the near future. Increasing inequality in wages and salaries is the key driver of the widening wealth gap.
As the world recovers from one of its worst, and longest, recessions and as wage growth continues to stagnate, the debate about inequality has been brought at the forefront of the global agenda.
In times like this, your wealth not only needs to be preserved but grown as well. Talk to a member of Dino Zavagno's team at Gladstone Morgan, to know more on the strategies to make money work for you. Our consultants will advise on the many schemes available and will illustrate those that are most suitable for each client's personal financial requirement.
Disclaimer: All content provided on this page are for informational purposes only. Gladstone Morgan Limited makes no representations as to the accuracy or completeness of any information on this page or found by following any link on this page. Gladstone Morgan Limited will not be liable for any errors or omissions in this information nor for the availability of this information. Gladstone Morgan Limited will not be liable for any losses, injuries, or damages from the display or use of this information. This policy is subject to change at any time.
It should be noted the services available from Gladstone Morgan Limited will vary from country to country. Nothing in the comments above should be taken as offering investment advice or making an offer of any kind with regard to financial products or services. It is therefore important to reinforce that all comments above are designed to be general in nature and should not be relied upon for considering investment decisions without talking to licensed advisers in the country you reside or where your assets may located.Gladstone Morgan Ltd is not SFC authorized. Gladstone Morgan Ltd in Hong Kong is licensed with the Hong Kong Confederation of Insurance Brokers.