Greek MPs approve a second set of reforms regarding €86bn bailout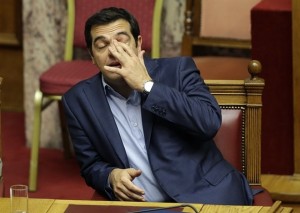 Greek MPs approve a second set of reforms regarding €86bn bailout
Following a late night meeting last night Greek MPs have now voted by a wide margin to approve the latest economic reforms demanded by its creditors.
Despite the thousands protesting in the streets of Greece against further austerity measures the Greek Prime Minister Alexis Tsipras has been urging MP´s including rebels within his own Syriza party to support the reforms demanded by their creditors in order to secure the rescue deal.
Meanwhile, the European Central Bank (ECB) has been increasing its cash lifeline to Greek banks through the emergency injection of an extra €900m (£630m), the ECB's second in a week, which came just hours before the vote yesterday.
These mini injections are essential until Greece secures its third international bailout – the negotiations of which could not begin until Greece's parliament agreed to the tough new reforms.
The first set of reforms, focused largely on tax hikes and budget discipline, triggered a rebellion in Syriza last week and passed only thanks to votes from pro-EU opposition parties.
The Greek government has said that once parliament adopts the second round of austerity measures, the bailout negotiations can begin and hopefully conclude by late August.
Greece is facing an additional €3.2 bn bond repayment to the ECB on August 20, and this third €82bn which is currently still in question will be vital to get by.
At Gladstone Morgan we cover all aspects of your Financial Planning and offer independent and impartial advice. Contact Dino Zavagno or a member of his team about reviewing your existing Financial Planning.
Disclaimer: All content provided on this page are for informational purposes only. Gladstone Morgan Limited makes no representations as to the accuracy or completeness of any information on this page or found by following any link on this page. Gladstone Morgan Limited will not be liable for any errors or omissions in this information nor for the availability of this information. Gladstone Morgan Limited will not be liable for any losses, injuries, or damages from the display or use of this information. This policy is subject to change at any time.
It should be noted the services available from Gladstone Morgan Limited will vary from country to country. Nothing in the comments above should be taken as offering investment advice or making an offer of any kind with regard to financial products or services. It is therefore important to reinforce that all comments above are designed to be general in nature and should not be relied upon for considering investment decisions without talking to licensed advisers in the country you reside or where your assets may located. Gladstone Morgan Ltd is not SFC authorized. Gladstone Morgan Ltd in Hong Kong is licensed with the Hong Kong Confederation of Insurance Brokers.