Gold – Is now the time to buy?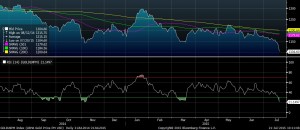 Gold futures rebounded on Monday from their lowest level in more than five years, finding support from weakness in the U.S. dollar to settle near $1,100 an ounce. Although analysts speculate that prices haven't quite hit bottom just yet, many are in agreement that there is not much further to go.
The Gold prices moving towards and finding a sweet spot around the $1,100oz mark is also indicated by the RSI (Relative Strength Index) charts. This could therefore represent a great buying opportunity for this precious metal.
There have been many recent contributing factors to the gold price fluctuations:
· The Greek Governments last minute bailout agreement with the Eurozone has temporarily seen the risk of Greece leaving the Eurozone diminish.
· The Federal Reserve has indicated that it will increase interest rates by the end of 2015.
· China, the largest consumer of the metal, has witnessed large scale selling.
· Domestic gold prices have been recently cushioned due to the depreciation of the rupee against the dollar.
All of the above combined have helped to push the gold prices lower. Retail sales figures in the US demonstrate how lower prices have already encouraged a surge in buying and the continuing deterioration in gold prices has instigated a further wave of retail interest.
Gold could once again be an extremely attractive investment opportunity and also looks to be moving towards an optimum buying price.
Contact our team at Gladstone Morgan if you wish to know more about how this topic as well as countless other significant events may influence your financial position and savings.
We will be happy to assist: Email: Info@gladstonemorgan.com
Disclaimer: All content provided on this page are for informational purposes only. Gladstone Morgan Limited makes no representations as to the accuracy or completeness of any information on this page or found by following any link on this page. Gladstone Morgan Limited will not be liable for any errors or omissions in this information nor for the availability of this information. Gladstone Morgan Limited will not be liable for any losses, injuries, or damages from the display or use of this information. This policy is subject to change at any time.
It should be noted the services available from Gladstone Morgan Limited will vary from country to country. Nothing in the comments above should be taken as offering investment advice or making an offer of any kind with regard to financial products or services. It is therefore important to reinforce that all comments above are designed to be general in nature and should not be relied upon for considering investment decisions without talking to licensed advisers in the country you reside or where your assets may located. Gladstone Morgan Ltd is not SFC authorized. Gladstone Morgan Ltd in Hong Kong is licensed with the Hong Kong Confederation of Insurance Brokers.