Global Savings Glut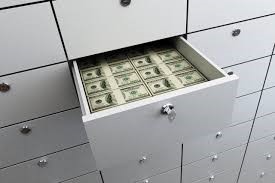 In 2005, former US Federal Reserve chairman Ben Bernanke mentioned the "global savings glut" hypothesis, a global excess of desired saving over desired investment, emanating in large part from China and other Asian emerging market economies and oil producers such as Saudi Arabia, as a major reason for low global interest rates. It also explains the increased demand for bonds and subdued borrowing costs. This in turn hurts the savers as the return on their savings reduces over time.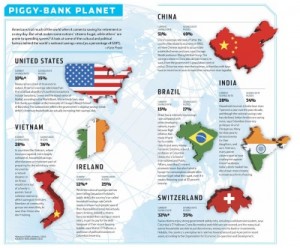 Most Asian economies have been models of prudence. While American and European households are borrowing up to the hilt, Asian ones are tucking away their savings.
Asia is likely to be home to more than half of the total global middle class population by 2020. According to HSBC, emerging economies will add 330 million more "peak savers" by 2030.
The richest 5 percent of China's households save about 70 percent of their incomes and account for half of household savings. The South Asian countries have one of the highest saving rates in the world at around 30 per cent.
Anglo-Saxon countries—America, Canada, Britain, Australia and New Zealand—have the lowest rates of household saving. Americans on average, save less than 1% of their after-tax income today compared with 7% at the beginning of the 1990s. The average retirement account balance for Americans between 55 and 64 is $291,000, which will only provide about $12,000 a year in inflation-indexed income.
In Australia and New Zealand personal saving rates are negative as people borrow to consume more than they earn.
In Europe, the record has been mixed. Some countries, such as Germany, resemble Japan, with rising saving surpluses and weak domestic demand. Others look more like America.
People have many reasons to save: as a precaution against a sudden drop in income; to smooth their consumption over their lifetime; to provide first class education to their children or to leave assets to their children.
But savers are earning poorer returns than necessary from their bank deposits, with established customers in particular losing out. As the fear of deflation and negative interest on deposits held in banks spreads globally, households across Asia have to rethink their strategy for saving.
Gladstone Morgan has found that private clients, particularly those with substantial capital sums to invest, need greater investment choice and diversity than ever before. Gladstone Morgan's advisors have many years of experience in providing expert advice on tailoring investment choices to meet individual clients' financial goals. We offer a full range of investment products and are able to support you, whether you are looking to make your own investment decisions with our support or you prefer to delegate the management of your portfolio to us. You can contact us at (852) 2868 5958 to schedule a meeting or email me us at Info@gladstonemorgan.com
Disclaimer: All content provided on this page are for informational purposes only. Gladstone Morgan Limited makes no representations as to the accuracy or completeness of any information on this page or found by following any link on this page. Gladstone Morgan Limited will not be liable for any errors or omissions in this information nor for the availability of this information. Gladstone Morgan Limited will not be liable for any losses, injuries, or damages from the display or use of this information. This policy is subject to change at any time.
It should be noted the services available from Gladstone Morgan Limited will vary from country to country. Nothing in the comments above should be taken as offering investment advice or making an offer of any kind with regard to financial products or services. It is therefore important to reinforce that all comments above are designed to be general in nature and should not be relied upon for considering investment decisions without talking to licensed advisers in the country you reside or where your assets may located.Gladstone Morgan Ltd is not SFC authorized. Gladstone Morgan Ltd in Hong Kong is licensed with the Hong Kong Confederation of Insurance Brokers.