Geo Political Risk
The recent crash of Malaysian airline MH17 over Ukraine's war-torn Donetsk region has become the latest addition to the growing number of "global tragedies". The plane crash, which killed nearly 300 people, has added to geopolitical tensions around Ukraine and has raised uncertainty about possible further sanctions against Moscow.
World stock markets remained edgy as US stepped up the pressure on Moscow, with a new swathe of sanctions for supporting Ukrainian separatists. The Russian stock market spiralled into negative territory. The new sanctions are likely to affect the broader Europe markets, heightening fears that the growing tensions between Moscow and the West could hit the global economy.
Investors in general like stable environment. While professional money managers are quite adept at tracking global untoward events, individuals might not be able to keep up with the sudden shift in geo-political tensions amid their busy schedule. If we take a minute to ponder and count the countries/regions that are considered geo-politically risky and match the list with the graphics below, the results could be surprising.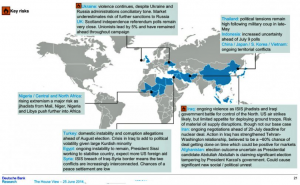 Source: Deutsche bank research report
Talk to a member of Dino Zavagno' s team at Gladstone Morgan to ensure your investments are protected from geo-political risks.
Disclaimer: All content provided on this page are for informational purposes only. Gladstone Morgan Limited makes no representations as to the accuracy or completeness of any information on this page or found by following any link on this page. Gladstone Morgan Limited will not be liable for any errors or omissions in this information nor for the availability of this information. Gladstone Morgan Limited will not be liable for any losses, injuries, or damages from the display or use of this information. This policy is subject to change at any time.
It should be noted the services available from Gladstone Morgan Limited would vary from country to country. Nothing in the comments above should be taken as offering investment advice or making an offer of any kind with regard to financial products or services. It is therefore important to reinforce that all comments above are designed to be general in nature and should not be relied upon for considering investment decisions without talking to licensed advisers in the country you reside or where your assets may located.