Future of Hong Kong Dollar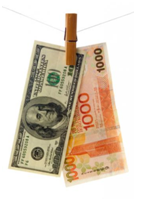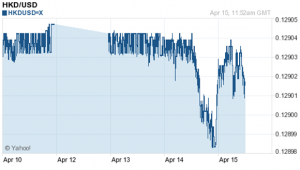 Hong Kong's Hang Seng Index rose above the 28000-mark for the first time in more than seven years on 13 April, fueled by expectations of more investment from Mainland China. The index hadn't closed above 28000 since 24 December 2007.
The gains came after Beijing said investors could have up to 20 stock accounts, meaning they can open accounts at different brokerages. The announcement led to record 1.56 million new stock trading accounts registrations in one single week.
Hong Kong Dollar's 32-year-old peg with US Dollar came under pressure as the Hang Seng shot up. Hong Kong's de facto central bank had to step in to prevent the currency from rising against the US Dollar. The Hong Kong Monetary Authority bought HK$2.1 billion at HK$7.75 a dollar, the upper limit of a convertibility range that triggers intervention. This has brought back the discussion over the future of HKD peg to USD.
Superficially, Hong Kong faces a similar situation to Switzerland. The sudden death of the Swiss franc ceiling set off fears that HKD would be the next. Critics blame Hong Kong's peg to the U.S. dollar for the unaffordable property prices in the city.
Hong Kong's currency board is an institutionalized, rules-based system in place since 1983, making it harder and even riskier to change on a whim. Hong Kong authorities have been willing to take huge levels of pain to maintain the peg. They allowed GDP to contract by 5.9% in 1998 rather than succumb to depreciation pressure. And with the domestic political situation still unsettled, Hong Kong is unlikely to abandon a policy that has anchored the financial system for decades.
Hong Kong is now likely to see a receding tide of dollars. The US Federal Reserve has stopped asset purchases and will eventually raise interest rates, letting some air out of the Hong Kong property market. But the future of HK Dollar still remains a contentious topic.
If you are an expatriate planning to spend a few years in Hong Kong and take advantage of the low taxes, take note that the future course of HK Dollar might render the management of your savings and investments less straightforward. Schedule an appointment with Dino Zavagno or a member of his team at Gladstone Morgan to discuss on options before you decide on where to keep your fallback money. Contact us at info@gladstonemorgan.com
Disclaimer: All content provided on this page are for informational purposes only. Gladstone Morgan Limited makes no representations as to the accuracy or completeness of any information on this page or found by following any link on this page. Gladstone Morgan Limited will not be liable for any errors or omissions in this information nor for the availability of this information. Gladstone Morgan Limited will not be liable for any losses, injuries, or damages from the display or use of this information. This policy is subject to change at any time.
It should be noted the services available from Gladstone Morgan Limited will vary from country to country. Nothing in the comments above should be taken as offering investment advice or making an offer of any kind with regard to financial products or services. It is therefore important to reinforce that all comments above are designed to be general in nature and should not be relied upon for considering investment decisions without talking to licensed advisers in the country you reside or where your assets may located. Gladstone Morgan Ltd is not SFC authorized. Gladstone Morgan Ltd in Hong Kong is licensed with the Hong Kong Confederation of Insurance Brokers.