Francogeddon
On Thursday January 15th, the Swiss National Bank abruptly made a radical policy shift that shocked the global markets. The SNB ended its three-year policy of capping the Swiss Franc at 1.20 per Euro.
For the last three years SNB had capped the value of the franc at 1.20 EUR by doing what was until recently the world's largest quantitative easing program – buying euros without limit in return for newly created francs. SNB spent billions in the foreign currency market defending the Franc-Euro level. As a result the Swiss Franc was fairly undervalued helping Swiss exports. However thesudden move by SNB resulted in the Franc gaining 15% against the Euro and USD in just under 24 hours.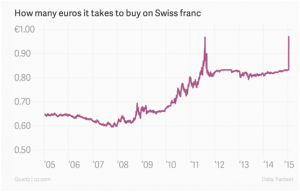 Astrong franc hurts the Swiss as it makes their exports more expensive for foreign buyers, and the country has a giant export sector.It also means that prices in Switzerland will become even more exorbitant for tourists. In July 2014, for example, The Economist calculated that a McDonald's Big Mac cost $6.83, vs. $4.80 in the U.S.
This sudden decision by SNB sent shock waves through the global financial markets.In the short term the euro fell to $1.16 per dollar, and the price of gold, widely seen as a substitute currency in times of crisis, rose to $1,264.80 a gain of $30.30 an ounce.
SNB's decision came aweek before the European Central Bank meets to discuss government bond purchases to boost the euro-area economy. A possible quantitative easingby Eurozone could have put immense pressure on the franc to appreciate against the euro, further deteriorating the Swiss economy. As they grapple with turns in their economies, centralbanks across the globe seem to be no longer aligned as they were during the time of financial crisis. The move by SNB for now looks like an opening skirmish in a currency war.
Stay tuned to the Gladstone Morgan blog, as we bring you more on this topic.info@gladstonemorgan.com
Disclaimer: All content provided on this page are for informational purposes only. Gladstone Morgan Limited makes no representations as to the accuracy or completeness of any information on this page or found by following any link on this page. Gladstone Morgan Limited will not be liable for any errors or omissions in this information nor for the availability of this information. Gladstone Morgan Limited will not be liable for any losses, injuries, or damages from the display or use of this information. This policy is subject to change at any time.
It should be noted the services available from Gladstone Morgan Limited will vary from country to country. Nothing in the comments above should be taken as offering investment advice or making an offer of any kind with regard to financial products or services. It is therefore important to reinforce that all comments above are designed to be general in nature and should not be relied upon for considering investment decisions without talking to licensed advisers in the country you reside or where your assets may located.Gladstone Morgan Ltd is not SFC authorized. Gladstone Morgan Ltd in Hong Kong is licensed with the Hong Kong Confederation of Insurance Brokers.