Eurozone: the gloves come off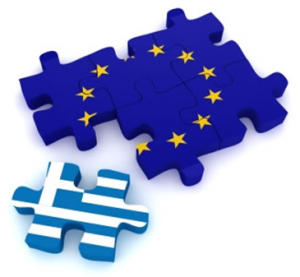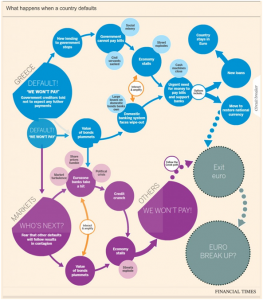 EVER since the euro crisis erupted in late 2009 Greece has been at or near its heart. It was the first country to receive a bail-out, in May 2010. On December 29th the Greek parliament failed to elect a president, forcing an early snap election to be called for January 25th. The euro crisis is entering a new, highly dangerous phase, and once again Greece finds itself at the center.
With many Greeks exhausted by five years of recession, tax hikes and record unemployment rates, Greece's coalition of the radical left, better known as Syriza Party is tipped to win the snap polls.
The prospect of a leftist party coming to power in Europe's most indebted country is rattling the markets and European capitals. In a re-run of the drama that haunted Greece at the height of the eurozone crisis in 2012, markets have tumbled with the country's borrowing costs soaring on the back of revived fears of a Greek exit – called Grexit – if a Syriza-led government assumes power.
The Athens Stock Exchange posted its biggest drop on record on December 9th, while borrowing costs for Greece have skyrocketed amid the political uncertainty.
The leaders of the European Union view the shared-currency area as capable of withstanding Greece's departure, a scenario that would become almost unavoidable if the new radical left led government were to renege on spending cuts and fail to service the country's debt. Here is a visual on the events that occur when a country in Eurozone defaults.
Stay tuned to the Gladstone Morgan blog as we bring you more analysis and insights on the impact of Greece's exit from Eurozone.
Disclaimer: All content provided on this page are for informational purposes only. Gladstone Morgan Limited makes no representations as to the accuracy or completeness of any information on this page or found by following any link on this page. Gladstone Morgan Limited will not be liable for any errors or omissions in this information nor for the availability of this information. Gladstone Morgan Limited will not be liable for any losses, injuries, or damages from the display or use of this information. This policy is subject to change at any time.
It should be noted the services available from Gladstone Morgan Limited will vary from country to country. Nothing in the comments above should be taken as offering investment advice or making an offer of any kind with regard to financial products or services. It is therefore important to reinforce that all comments above are designed to be general in nature and should not be relied upon for considering investment decisions without talking to licensed advisers in the country you reside or where your assets may located.Gladstone Morgan Ltd is not SFC authorized. Gladstone Morgan Ltd in Hong Kong is licensed with the Hong Kong Confederation of Insurance Brokers.