Eurozone in Crisis – Is "super Mario" saving the Euro?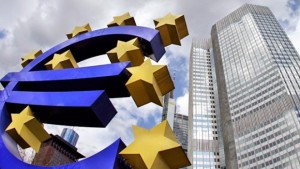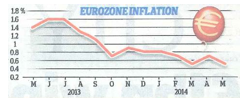 Mario Draghi the president of the European Central Bank (ECB) looks to have gone further than anyone expected in seeking to head off the deflation threat and the unemployment disaster in the Eurozone.
Two years ago Mario Draghi promised to do 'whatever it takes' to save the Euro.
True to his word, at the recent ECB meeting he unleashed an unprecedented package of measures to tackle low inflation and high unemployment across the crisis-torn single currency bloc.
Furthermore following the meeting of the European Central Bank governing council in Frankfurt, Draghi added "We're not finished here"
He had already announced that the ECB would cut its main interest rate from 0.25pc to a new record low of 0.15 pc. As well as lowering the deposit rate from Zero to minus 0.1pc, thereby becoming the first major central bank in the world to impose negative interest rates.
The ECB has entered uncharted territory as neither the Bank of England, US Federal Reserve or the bank of Japan have ever tried this.
These negative interest rates will mean that commercial banks will have to pay to park their funds at the Central Bank and Draghi's aim is to encourage commercial banks to lend money to the "real economy". Additional measures included the offer of cheap loans to banks tied to the amount they lend to businesses and households across the Eurozone.
In parts of the Eurozone, unemployment is dire and economic desolation widespread. Voters across the Continent- who are growing despondent with the recession, unemployment and austerity – expressed their anger in last month's European elections, highlighted by the support for the extreme parties.
Some observers feel Draghi didn't disappoint. Whilst some critics say the European Central Bank measures are too little, too late.
How does the Eurozone situation affect your investments? Gladstone Morgan Advisers can help you understand how the situation in Europe affects your Portfolio – arrange to meet with your adviser to discuss this further.
Disclaimer: All content provided on this page are for informational purposes only. Gladstone Morgan Limited makes no representations as to the accuracy or completeness of any information on this page or found by following any link on this page. Gladstone Morgan Limited will not be liable for any errors or omissions in this information nor for the availability of this information. Gladstone Morgan Limited will not be liable for any losses, injuries, or damages from the display or use of this information. This policy is subject to change at any time.
It should be noted the services available from Gladstone Morgan Limited will vary from country to country. Nothing in the comments above should be taken as offering investment advice or making an offer of any kind with regard to financial products or services. It is therefore important to reinforce that all comments above are designed to be general in nature and should not be relied upon for considering investment decisions without talking to licensed advisers in the country you reside or where your assets may located.Gladstone Morgan Ltd is not SFC authorized. Gladstone Morgan Ltd in Hong Kong is licensed with the Hong Kong Confederation of Insurance Brokers.