Ebola – An epodemic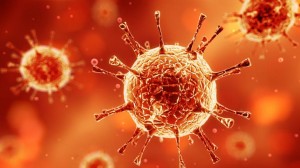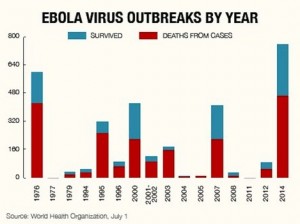 The Ebola outbreak in West Africa is the world's deadliest to date. WHO says the Ebola outbreak in West Africa eventually could exceed 20,000 cases, more than six times as many as doctors know about now.
Ebola was discovered in 1976. The disease infects humans through close contact with infected animals, including chimpanzees, fruit bats and forest antelope.
It then spreads between humans by direct contact with infected blood, bodily fluids or organs, or indirectly through contact with contaminated environments. The initial symptoms can include a sudden fever, intense weakness, muscle pain and a sore throat.
The human disease has so far been mostly limited to Africa, although one strain has cropped up in the Philippines.
There have been multiple risk analyzing agencies that have evaluated Ebola and said that the Ebola outbreak "is unlikely to spread beyond the region and become a global pandemic."
That's not to minimize the risks or the need for caution and preparation in other parts of the world, and for continued vigilance around the world. It is vital to learn the basics about the spread of serious diseases and what you can do to protect yourself, your family, and your community.
Talk to Dino Zavagno MD at Gladstone Morgan or a member of his team to ensure your insurance policy can cover you and your loved ones fully.
All content provided on this page are for informational purposes only. Gladstone Morgan Limited makes no representations as to the accuracy or completeness of any information on this page or found by following any link on this page. Gladstone Morgan Limited will not be liable for any errors or omissions in this information nor for the availability of this information. Gladstone Morgan Limited will not be liable for any losses, injuries, or damages from the display or use of this information. This policy is subject to change at any time.
It should be noted the services available from Gladstone Morgan Limited would vary from country to country. Nothing in the comments above should be taken as offering investment advice or making an offer of any kind with regard to financial products or services. It is therefore important to reinforce that all comments above are designed to be general in nature and should not be relied upon for considering investment decisions without talking to licensed advisers in the country you reside or where your assets may located.