Deflation Woes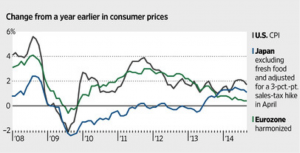 In the last two weeks, stocks markets have fallen sharply across the world with a range of anxieties looming large: US economic slowdown, Ebola, German industrial woes, geopolitical tension and the Eurozone crisis adding to the Deflation Woes.
The recent volatility in financial markets, slow global economic growth, falling consumer prices and other signs highlight the concern that the risk of deflation in the world's economy is increasing.
The deflation concern is particularly pronounced in Europe, Japan and US: where the economies are struggling to come up with solutions to counter slow economic growth. Annual inflation in the Eurozone has fallen to a five-year low and far below the European Central Bank's 2 percent target. Even in China the inflation is below 2%, compared with a 4% central government target.
Though consumers' money stretches further when prices fall, the profits of businesses erode, which tends to cause higher rates of unemployment thereby reducing consumer spending.
The belief that money made tomorrow will be less than money made today hinders investment; the belief that goods bought tomorrow will be cheaper than goods bought today chokes consumption. This would in turn cause further weakening of demand and drop in prices.
Deflation also increases the costs of borrowing, discouraging business investment and making it harder for existing borrowers to pay back loans. The price of a barrel of oil has fallen from US$115 at the end of June to about $85 today, prompting a sharp drop in core inflation. Across the board lower commodity prices may knock another 0.4 percentage points off global inflation.
The European Central Bank acted against deflation risks in June and September, pushing the central bank to slash interest rates to record lows each time—including a negative rate on bank deposits at the ECB.
High inflation can be a nightmare for savers, particularly when coupled with low savings interest rates. The obvious impact of inflation on your savings is that the purchasing power gets eroded. To understand the effects of deflation on your financial well-being talk to Dino Zavagno or a member of his team at Gladstone Morgan.
Disclaimer: All content provided on this page are for informational purposes only. Gladstone Morgan Limited makes no representations as to the accuracy or completeness of any information on this page or found by following any link on this page. Gladstone Morgan Limited will not be liable for any errors or omissions in this information nor for the availability of this information. Gladstone Morgan Limited will not be liable for any losses, injuries, or damages from the display or use of this information. This policy is subject to change at any time.
It should be noted the services available from Gladstone Morgan Limited would vary from country to country. Nothing in the comments above should be taken as offering investment advice or making an offer of any kind with regard to financial products or services. It is therefore important to reinforce that all comments above are designed to be general in nature and should not be relied upon for considering investment decisions without talking to licensed advisers in the country you reside or where your assets may located.