Could a default lead to Greece´s exit from the Euro?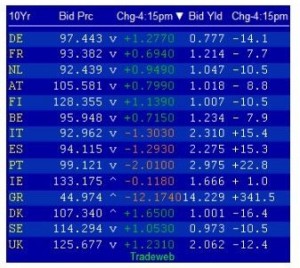 Greece looks set to default on a €1.6bn debt payment due to the International Monetary Fund (IMF).
If Greece does not make the transfer it would join Somalia, Sudan, and Zimbabwe in falling into arrears with the IMF. Furthermore the country will also take a step closer to what some fear could be its exit from the eurozone and another round of economic turmoil in Europe.
Thousands have also been taking to the streets in Greece to support their government's opposition to the latest debt deal after a clash with the country's creditors forced a shutdown of its banks and brought the country close to financial collapse.
Alexis Tsipras the Greek Prime Minister surprised creditors this weekend by calling a snap referendum on Greece's bailout program and austerity measures. The vote is to be held on July 5.
EU leaders including Germany's Angela Merkel, France's Francois Hollande and Italy's Matteo Renzi have warned that the vote on the 5th will effectively be a vote on Greece's place in the euro.
Creditors have refused to extend Greece's bailout program until after the vote, prompting anger from Tsipras who is now urging the Greek public to vote "no" to more austerity.
Standard & Poor's rating agency downgraded Greece's credit rating further saying the referendum brought it closer to default.
Fitch also cut its ratings on four major Greek banks to "restricted default" after the government ordered commercial banks closed for a week and established capital controls.
Meanwhile leaders in fellow bailout recipient Portugal, widely considered to be the next weakest eurozone economy after Greece, tried to reassure investors of the health of the economy after the Lisbon stock market slid more than five per cent.
At Gladstone Morgan we cover all aspects of your Financial Planning and offer independent and impartial advice. Contact Dino Zavagno or a member of his team about reviewing your existing Financial Planning.
Disclaimer: All content provided on this page are for informational purposes only. Gladstone Morgan Limited makes no representations as to the accuracy or completeness of any information on this page or found by following any link on this page. Gladstone Morgan Limited will not be liable for any errors or omissions in this information nor for the availability of this information. Gladstone Morgan Limited will not be liable for any losses, injuries, or damages from the display or use of this information. This policy is subject to change at any time.
It should be noted the services available from Gladstone Morgan Limited will vary from country to country. Nothing in the comments above should be taken as offering investment advice or making an offer of any kind with regard to financial products or services. It is therefore important to reinforce that all comments above are designed to be general in nature and should not be relied upon for considering investment decisions without talking to licensed advisers in the country you reside or where your assets may located. Gladstone Morgan Ltd is not SFC authorized. Gladstone Morgan Ltd in Hong Kong is licensed with the Hong Kong Confederation of Insurance Brokers.