China's anti-valentines day is the world's biggest E-commerce holiday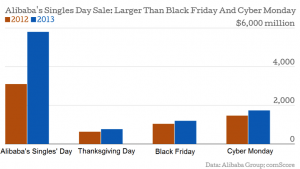 Singles' Day or Guanggun Jie is a day for people who are single, celebrated on November 11 (11/11). The date is chosen for the connection between singles and the number '1'. Popularized by Alibaba in 2009, it has become the largest online shopping day in the world.
Like earlier years, China's bachelors and bachelorettes spent their singles day this year again with Alibaba. Alibaba watchers speculated that the company will easily top last year's record US$5.7 billion in sales. At the end of the day, the firm confirmed that the sales had reached US$9.3 billion, and that it had shipped 278 million orders, 43% of which were placed on mobile devices.
Alibaba's singles day sale is larger than the combined e-commerce spending on Thanksgiving Day, Black Friday and Cyber Monday deals in the US.
China's one-day shopping craze heralds the frenetic growth of consumer spending in that country. China is set to overtake the United States this year as the largest online shopping market in the world. The mainland e-commerce market is expected to grow at an annual rate of 25% over the next few years, from $390bn in 2014 to $718bn in 2017.
More than 200 merchants from over 20 countries participated this year to get a share of the record-breaking spending by Chinese consumers on a single day.
With China's future so bright and most of the developed economies facing stagnated growth, we wonder if China's consumers can save the world economy.
Stay tuned to the Gladstone Morgan blog for more such insights into the financial world.
Disclaimer: All content provided on this page are for informational purposes only. Gladstone Morgan Limited makes no representations as to the accuracy or completeness of any information on this page or found by following any link on this page. Gladstone Morgan Limited will not be liable for any errors or omissions in this information nor for the availability of this information. Gladstone Morgan Limited will not be liable for any losses, injuries, or damages from the display or use of this information. This policy is subject to change at any time.
It should be noted the services available from Gladstone Morgan Limited will vary from country to country. Nothing in the comments above should be taken as offering investment advice or making an offer of any kind with regard to financial products or services. It is therefore important to reinforce that all comments above are designed to be general in nature and should not be relied upon for considering investment decisions without talking to licensed advisers in the country you reside or where your assets may located.Gladstone Morgan Ltd is not SFC authorized. Gladstone Morgan Ltd in Hong Kong is licensed with the Hong Kong Confederation of Insurance Brokers.