Bonus For Expat Pensions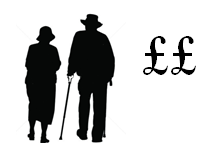 Due to soaring Sterling the state pension of around half a million expats living in Europe has been boosted by nearly 10 pc.
The jump is not only due to sterling rising but also the annual increase in the state pension which in April went from £110.15 per week to £113.10 per week.
However, the pound has jumped in value against the euro – In June one pound was worth €1.17 – It is now worth €1.26.
Of the estimated 450,000 expat pensioners living in the Eurozone area, 75% live in four countries: Ireland (130,000), Spain (107,000), France (60,000) and Germany (40,000).
Expatriates residing in countries with a bilateral agreement with the UK can expect their basic state pension to rise each April. Payments are increased by the greater inflation, earnings or 2.5 per cent – known as the 'triple lock guarantee'.
All Eurozone countries have a bilateral agreement with the UK.
However, expatriates retiring in Commonwealth countries as Australia or Canada do not benefit from the rise in inflation as their pensions are frozen at the rate when they leave the UK.
Contact Dino Zavagno MD at Gladstone Morgan or a member of his team to arrange a meeting further discuss your pension requirements.
Disclaimer: All content provided on this page are for informational purposes only. Gladstone Morgan Limited makes no representations as to the accuracy or completeness of any information on this page or found by following any link on this page. Gladstone Morgan Limited will not be liable for any errors or omissions in this information nor for the availability of this information. Gladstone Morgan Limited will not be liable for any losses, injuries, or damages from the display or use of this information. This policy is subject to change at any time.
It should be noted the services available from Gladstone Morgan Limited will vary from country to country. Nothing in the comments above should be taken as offering investment advice or making an offer of any kind with regard to financial products or services. It is therefore important to reinforce that all comments above are designed to be general in nature and should not be relied upon for considering investment decisions without talking to licensed advisers in the country you reside or where your assets may located.Gladstone Morgan Ltd is not SFC authorized. Gladstone Morgan Ltd in Hong Kong is licensed with the Hong Kong Confederation of Insurance Brokers.