Asset classes and portfolio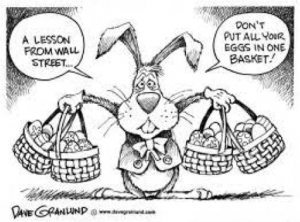 A common thread in all our earlier posts has been the need for financial planning in order to secure a better future for an individual or family. The key to realising your long-term goals through investing is based on a number of factors such as the level of understanding you have of the markets and financial instruments, the resources and time available to you and the advice you get from various sources. It is therefore essential that you have a basic understanding of the options available in the market.
What is an asset class?
An asset class is a group of securities or investments which display similar characteristics in a market environment and are subject to similar rules and regulations. At the same time, each asset class has different risk and reward features.
Types of Asset classes
There are four major categories:
1. Equities – Stocks. Shares of a publicly-listed company held by an individual or a company
ü Potential to provide higher returns than most of the other asset classes
× Higher risk and higher volatility
× Subject to higher fluctuations
2. Fixed-Income securities – Bonds/Debt. Issuer pays interest at fixed intervals and returns the principal at the end of the contract period. These can be issued by corporations and governments.
ü Better stability and less prone to fluctuations
ü Add a layer of growth potential to the portfolio
× Subject to macro-economic factors such as inflation and interest rates
3. Cash equivalents – Money market instruments. Include Governemet issued certificates, Commercial paper, banker's acceptances, and Certificate of Deposits.
üLower degree of volatility and fluctuations
ü Ideal for short-term investments
× Lower potential for returns
4. Derivatives – Futures/Forwards/Swaps/Options. Financial contracts which derive value from the performance of another entity such as an asset, index, or interest rate, called the "underlying".
üUsed as a hedge to mitigate risk in the underlying entities.
üGain quicker and efficient access to worldwide markets
× Subject to risks associated with the derivatives – counterparty risk, underlying asset risk, price and expiration
Commodities (minerals, crops, and energy), Property (real estate, retirement income) and Collectibles (antiques, wines, art) can be added to the list of asset classes..
The asset classes can be further grouped into aggressive and defensive investments based on the risk and reward principle. Stocks are an example of agreesive investments as they offer the potential of higher returns, while bonds and money market instruments fall into the defensive category due to their inherent characteristic of lower risk.
The following graph illustrates the concept above.
Source: Unisuper.com.au
Any portfolio should consider the risk and return features of the asset classes above. The old age "Don't put all your eggs in one basket" should be followed when investing. Diversification is important when structuring a portfolio, the way you spread your money between asset classes is your asset allocation. A variety of factors need to be considered when structuring a portfolio, principally the risk appetite (aggressive/conservative investor), time horizon (short/long term) and expected returns (high/low). We will be looking at these concepts and asset classes in more detail in subsequent articles. Follow the Gladstone Morgan blog for further updates.
Gladstone Morgan's MD, Dino Zavagno has an exceptional group of advisors who have decades of experience in providing financial assistance and tailored investment solutions for Clients. Feel free to contact us at (852) 2868 5958 and check our interactive feature at //www.gladstonemorgan.com/ for an introduction to the services offered.
Disclaimer: All content provided on this page are for informational purposes only. Gladstone Morgan Limited makes no representations as to the accuracy or completeness of any information on this page or found by following any link on this page. Gladstone Morgan Limited will not be liable for any errors or omissions in this information nor for the availability of this information. Gladstone Morgan Limited will not be liable for any losses, injuries, or damages from the display or use of this information. This policy is subject to change at any time.
It should be noted the services available from Gladstone Morgan Limited will vary from country to country. Nothing in the comments above should be taken as offering investment advice or making an offer of any kind with regard to financial products or services. It is therefore important to reinforce that all comments above are designed to be general in nature and should not be relied upon for considering investment decisions without talking to licensed advisers in the country you reside or where your assets may located.Gladstone Morgan Ltd is not SFC authorized. Gladstone Morgan Ltd in Hong Kong is licensed with the Hong Kong Confederation of Insurance Brokers.