A'Gold'en opportunity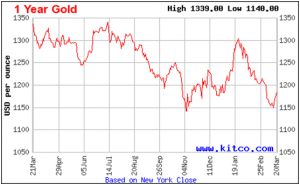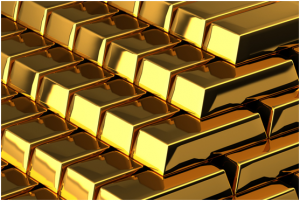 Gold is an asset that has historically outperformed in times of both inflation and deflation. But the SPDR Gold Shares exchange traded fund (ETF) has fallen by close to 20pc in the last 12 months and has been trading at five-year low levels.
Gold has been falling in large part to the soaring U.S. dollar and the bearish influence of falling commodities prices. Also the expectations for higher interest rates in the US are affecting global bullion price. There are four main factors that affect the price of gold.
– The USD
– Global interest rates
– Supply and demand fundamentals
– Risk Sentiment
So far in 2015, all four have simultaneously pushed gold prices lower.
The prospect of higher rates—and bigger returns than those found elsewhere—has attracted money to U.S. stocks and bonds, boosting the dollar's value against major currencies such as the Euro and the Yen. Exacerbating the Greenback's climb are central banks in Japan and Europe, which continue to pursue easy-money policies. A stronger dollar makes gold relatively more expensive for buyers outside the U.S.
Gold supply is also likely to plateau in the next couple of years, according to the World Gold Council, an industry body. As gold price moves below $1,200oz, this represents a real opportunity for gold investors and would signify a good buying opportunity for the long term.
Long-term investors know not to get caught up in the daily market fluctuations. You set a plan and stick to it, with a little rebalancing along the way. But always keep a watch on how asset classes perform over different time horizons and invest during a down cycle. Gold Prices definitely do offer a real opportunity with prices where they are today. Talk to Dino Zavagno or a member of his team to evaluate if this is an opportune time to add the sheen of yellow metal to your portfolio.
Disclaimer: All content provided on this page are for informational purposes only. Gladstone Morgan Limited makes no representations as to the accuracy or completeness of any information on this page or found by following any link on this page. Gladstone Morgan Limited will not be liable for any errors or omissions in this information nor for the availability of this information. Gladstone Morgan Limited will not be liable for any losses, injuries, or damages from the display or use of this information. This policy is subject to change at any time.
It should be noted the services available from Gladstone Morgan Limited will vary from country to country. Nothing in the comments above should be taken as offering investment advice or making an offer of any kind with regard to financial products or services. It is therefore important to reinforce that all comments above are designed to be general in nature and should not be relied upon for considering investment decisions without talking to licensed advisers in the country you reside or where your assets may located. Gladstone Morgan Ltd is not SFC authorized. Gladstone Morgan Ltd in Hong Kong is licensed with the Hong Kong Confederation of Insurance Brokers.