A strategic retreat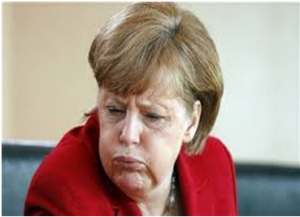 After nearly a quarter of a century since the fall of the wall, Berlin has become the uncontested centre of the European continent in both political and economic terms.Germany was a founder member of the European Union (EU), which now has a total of 27 Member States. With a landmass that stretches from the North Sea and the Baltic Sea in the north to the Alps in the south, Germany has the largest population of any European Union country. Germany effectively runs the European Union. But the recent set of developments suggests a shift in balance.
Earlier this year, Mario Draghi, the Italian-born European Central Bank president, took the Eurozone into unchartered territory by announcing €60 billion (£45.5 billion) quantitative easing. Germans are against this announcement because they think that QE is just offering a sticking plaster to weaker economies.
Two disastrous periods of inflation in the past century (one in 1923, the other after the second world war) have had a profound impact on Germans. At the height of hyperinflation, a German needed to take a suitcase full of big-denomination Reichsmark (German Currency in 1920s) notes down to the bread shop to buy a loaf and on the way the price might have doubled.
Germany's Bundesbank, whose iron grip on prices after World War II helped to soothe German memories of 1920s hyperinflation, has been particularly outspoken against the implementation of quantitative easing in Eurozone. It considers printing money to finance Government debts as illegal under European Union treaties.
Member countries' financial contributions to the EU budget are shared fairly, according to means. The larger a country's economy, the more it pays – and vice versa.Germanyhas been the biggest net contributor to EU budget. It pays more than the 19 lowest-paying member states combined.
Germany spearheaded resistance to the QE plans as it feared that the europrinting spree would set stage for a bigger and more costly crisis down the road. But the deteriorating economic conditions in the region and given her staunch support to EU, led the German chancellor Angela Merkel to finally announce that ECB was "totally independent".
ECB has positioned QE as a puremonetary tool, in line with its mandate to ensure stable prices, thus successfully ensuring that the legality is in order. QE could create the basis for growth, but the fact remains that the real growth impulses come from conditions set by politicians. ECB's "QE Bazooka" has brought back the kind of uncomfortable questions governments prefer not to answer: what kind of union is the eurozone? Is it a union of sovereign national states with access to a single market, or a supernational community of values with limited sovereignty?
Disclaimer: All content provided on this page are for informational purposes only. Gladstone Morgan Limited makes no representations as to the accuracy or completeness of any information on this page or found by following any link on this page. Gladstone Morgan Limited will not be liable for any errors or omissions in this information nor for the availability of this information. Gladstone Morgan Limited will not be liable for any losses, injuries, or damages from the display or use of this information. This policy is subject to change at any time.
It should be noted the services available from Gladstone Morgan Limited will vary from country to country. Nothing in the comments above should be taken as offering investment advice or making an offer of any kind with regard to financial products or services. It is therefore important to reinforce that all comments above are designed to be general in nature and should not be relied upon for considering investment decisions without talking to licensed advisers in the country you reside or where your assets may located.Gladstone Morgan Ltd is not SFC authorized. Gladstone Morgan Ltd in Hong Kong is licensed with the Hong Kong Confederation of Insurance Brokers.