A case for diversification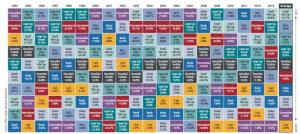 We all want to make our money work as hard as we do. That is why we invest. Any successful investment strategy will involve balancing risk and reward. The aim is to mitigate risk, insulating portfolio against adverse external changes, while still retaining the potential for high returns. That is why diversification is key.
The below chart shows annual returns for eight broad-based asset classes, cash, and a diversified portfolio ranked from best to worst from 1994 to 2013.
Economist Harry Max Markowitz first introduced the risk-management technique of portfolio diversification in the early 1950s. A Markowitz-efficient portfolio assumes that through asset allocation investors can achieve maximum expected returns for the individual's risk-tolerance. Conversely, the theory also assumes investors can minimize risk for an expected return.
Here are a few fundamentals of diversification:
· Spread the wealth: spreading your assets among investment types, styles and markets reduces the risk of one cataclysmic market event wiping out all your investments.
· Take your time: If you can keep investing at regular intervals, you have much more flexibility and can smooth out the peaks and troughs created by background market volatility.
· Think global: The premise behind geographical diversification is that markets in different parts of the world are less correlated to one another, so if you want to invest in another country ensure your portfolio has a mix of both stable, developed countries and emerging nations. Even similar assets in different geographical locations can have a low correlation.
· Maintain a comfortable mix: A thinly spread portfolio is difficult to manage to the level that is required to stay ahead of the market. Variety is key, not quantity.
· Resist the urge: when tempted by current market conditions, investors should stay true to a long-term financial plan. The stock market buzz never stops.
Your money is too important to invest without a plan. No investment strategy, including diversification and asset allocation, guarantees a profit or protects against a loss. Speak to Dino Zavagno or a member of his team at Gladstone Morgan to understand diversification and explore investment strategies that can help you achieve your financial goals. info@gladstonemorgan.com
Disclaimer: All content provided on this page are for informational purposes only. Gladstone Morgan Limited makes no representations as to the accuracy or completeness of any information on this page or found by following any link on this page. Gladstone Morgan Limited will not be liable for any errors or omissions in this information nor for the availability of this information. Gladstone Morgan Limited will not be liable for any losses, injuries, or damages from the display or use of this information. This policy is subject to change at any time.
It should be noted the services available from Gladstone Morgan Limited will vary from country to country. Nothing in the comments above should be taken as offering investment advice or making an offer of any kind with regard to financial products or services. It is therefore important to reinforce that all comments above are designed to be general in nature and should not be relied upon for considering investment decisions without talking to licensed advisers in the country you reside or where your assets may located. Gladstone Morgan Ltd is not SFC authorized. Gladstone Morgan Ltd in Hong Kong is licensed with the Hong Kong Confederation of Insurance Brokers.