3 things to note about Alibaba/Zuilly share purchase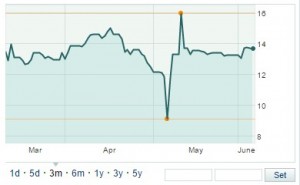 Alibaba, the Chinese online retailer, has moved to increase its foothold in the US by building a stake in a website that runs "flash sales".
What are Flash Sales Sites & How do they work?
Say you have a dozen retailers each with 10 products that went unsold previously. Rather than as a business, having to consider, plan and deal with a new sales operations to offload the excess stock, businesses have instead been finding profitable ways to sell the complete merchandise. Making full use of "Alternative Markets".
The complete unsold stocks would often be bought at an agreed price to be sold on a different market. For example: Buy discounted merchandise in the US and sell it in Eastern Europe.
Sales Process in short:
Flash sales teams develop a huge targeted potential buyers database, test these potential buyers to find the ideal product mix and then buy unsold inventory for resale a large discounts.
Alternatively, they attract potential customers to several discount offers which become active only once a certain number of buyers is reached.
Alibaba´s holding:
Alibaba now owns 9.2pc of Zulily, according to filings by the US Securities and Exchange Commission.
"We have great respect for the team at Alibaba and all that they have built," Zulily CEO Darrell Cavens said in a statement. "We are honored to welcome them as shareholders of our company."
Known for hosting flash sales of products, ranging from home décor to fashion, Zulily Inc., valued at $1.5 billion, has in recent months been suffering, evidenced by a 40% decline in their share value.
Whilst other investors have recently fled from Zulily who became publicly listed since late 2013, Alibaba has chosen to invest.
Zulily shares are down sharply from their height of approximately $70 in February 2014, at which time far stronger growth was reported.
On the 5th May 2015, Zulily reported weaker-than-expected quarterly sales, driving shares below $11. Following a sharp rise to $16 in Mid May, Zulily shares have since settled to $13.62, rising from $13 at the beginning of June.
If you would like to know more about how to grow your investment funds then please contact us at Gladstone Morgan, who will be happy to discuss it in more detail with you.
We would also like to invite you to join our Linkedin group where you will also be able to comment on our posts with our other followers. Our posts are made twice weekly.
Email: info@gladstonemorgan.com.
Disclaimer: All content provided on this page are for informational purposes only. Gladstone Morgan Limited makes no representations as to the accuracy or completeness of any information on this page or found by following any link on this page. Gladstone Morgan Limited will not be liable for any errors or omissions in this information nor for the availability of this information. Gladstone Morgan Limited will not be liable for any losses, injuries, or damages from the display or use of this information. This policy is subject to change at any time.
It should be noted the services available from Gladstone Morgan Limited will vary from country to country. Nothing in the comments above should be taken as offering investment advice or making an offer of any kind with regard to financial products or services. It is therefore important to reinforce that all comments above are designed to be general in nature and should not be relied upon for considering investment decisions without talking to licensed advisers in the country you reside or where your assets may located. Gladstone Morgan Ltd is not SFC authorized. Gladstone Morgan Ltd in Hong Kong is licensed with the Hong Kong Confederation of Insurance Brokers.